The game of tennis is a fast-paced game that requires players to move quickly and stop suddenly. Tennis shoes are designed to provide stability and traction on the court.
These shoes are often made with rubber soles, which grip well on the ground while providing cushioning for the player's feet. This is important because tennis players need to be able to stop suddenly without being thrown off balance or risking injury.
Disclaimer: Just so you know, if you order an item through one of our posts, we may get a small share of the sale at no cost to you. This helps support the site's running costs. Thank you!
However, I'm not a fan of the super-heavy, combat boot style of tennis shoes and prefer a more lightweight and minimalist design. The chunky design is not the only my dislike about traditional tennis shoes. Most mainstream tennis shoes have a high stack height and super cushioned heel which pre-tenses the calve muscles and limits the ability to push off. These shoes also have a tapered toe box that won't allow me to spread my toes.
On the other hand, the minimalist shoe provides more flexibility than heavier shoes and is much more comfortable to wear. I've been wearing these for about five years now and find them to be great for my feet, knees, and hips. Unfortunately, there are not many minimalist shoes specifically designed for tennies.
I have been investigating lightweight, zero drop, minimalist tennis shoes for some time now. My latest try is the new lightweight shoe from Xero (360 model).The 360s is the best barefoot tennies shoe I've found so far. They are lighter than most of the tennis shoes I wore and have zero drop and a large toe box. Especially, these shoes are designed for any sports that require quick lateral movement.
It's important to keep in mind that since tennis is far more start and stop and lateral movement and you must strike with the side of your foot, instead of with your forefoot. However, most minimalist barefoot shoes may not be best for tennis or other sports that require lateral movement. So you should choose minimalist shoes with some lateral support if you sometimes twist or roll over onto your ankle. Really, minimalist tennis shoes do not work for all people. It takes time to go from normal tennis shoes to minimalist.
Here are some features I'm looking for in minimalist tennis shoes:
They must be lightweight with a low heel-to-toe drop
They should have an outsole made of rubber or other materials that provide good traction (Altra Solstice XT, and Altra HIIT XT have great traction)
A wide toe box provides ample space for the toes to splay within the shoe.
Some outer lateral support
Without further ado, here're some great minimalist tennis shoes that I've found so far:
If you are a barefoot shoes enthusiast, you may want to know this news:  You can save 20%+ off on all of XEROSHOES' new styles now through September 5th. Plus, earn an extra 5% off if you buy 2 or more new styles. They have limited quantities available for every new model, which will be hot commodities. So grab 'em while you can! 
Check the deal here or click on below banner.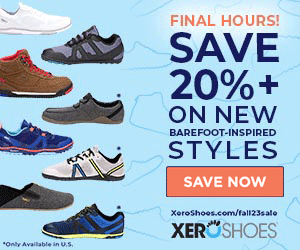 The List Barefoot Minimalist Tennis Shoes
Vivobarefoot Geo Court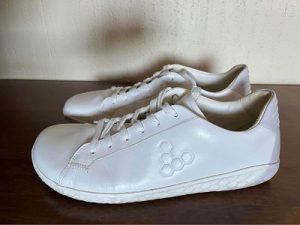 Geo Court by Vivobarefoot is one of the best minimalist shoes that you can try for tennis. Not only it is flexible, zero drop, but also the lateral support is really great. It has a wide toe box that gives toes plenty of room!
The only downside I've found is that the leather was stiff and does require some breaking in. The good news is these shoes have been updated in 2021 to be softer.
Get the look: Men's Geo Court Knit || Women's Geo Court Knit
Merrell Vapor Glove 4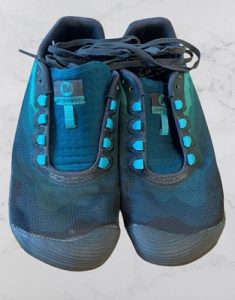 I haven't tried these shoes, but I've heard some good reviews about them, so I thought I'd list them here as well.
The shoe is lightweight, breathable, and offers solid traction. The Vibram sole is very soft and has a good grip. The shoe is also very affordable, making it a perfect choice for a tennis player still figuring out their style.
The downside of these shoes is there is no lateral support, which is not up to the requirements of a tennis court. It features a low heel cup. This means maximum rotation of your ankle but little support. If you have any issues with rolling your ankle, this is probably not the shoe for you.
Get the look: Merrell Vapor Glove 4
Vibram Men's Trek Ascent Insulated Walking Shoes
Trek Ascent is my preferred minimal tennis shoe. With a wide toe, versatile tread design, and middle ground stack height, Trek Ascent is a great choice for all-terrain walking, running, and hiking. I hike over some rocky trails with no pain or other difficulties.
The Trek Ascent Insulated allows tennis players to play on concrete. I walk and play on concrete and don't feel the heat on my soles at all.
The shoes come with flexible and grippy ice trek rubber. The lugs in the sole are very aggressive which provides plenty of protection for winter running and playing.
Get the look: Vibram Trek Ascent
HFS
Xero is not the brand everyone thinks of when considering tennis shoes, but some of the shoes from them I list here may help change that. And, HFS shoes are no exception.
The HFS shoes have a zero drop and are made from lightweight material which provides the stability and flexibility needed for quick movement. The upper is made of breathable mesh and the sole is tire tread-inspired.
The toe box is also wider than most tennis shoes and this helps to keep the toes from getting squished or pinched while wearing them.
They have a rubber sole that provides ground feedback and traction for playing tennis. HFS has non-sectioned soles and features a reinforced toe with a lightweight synthetic material.
Get the look: Men's HFS | Women's HFS
Prio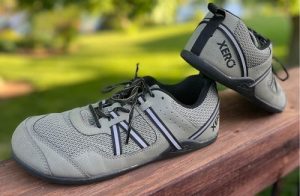 Prio is my first try for barefoot tennis shoes. I am satisfied with its performance on the court. It is one of the most flexible minimalist tennis shoes I've tried with the right amount of ground feel. It features a construction that is lightweight and agile. With the strapping system, lateral support is great during playing and you'll feel solid on your feet in these.
The Prio is very secure on my feet and is super comfortable to wear (I often forget they are on). The tread pattern is similar to tennis shoes' pattern. The Prio is good with hard cuts and steps, as well as sprints and jumps.
Prio features three-sectioned soles which provide better toe and forefoot movement compared to the non-sectioned soles of the HFS.
Get the look: Men's Prio | Women's Prio
360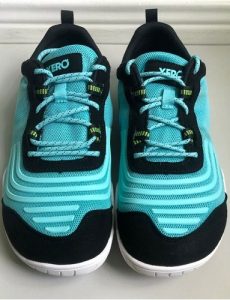 360 from Xero is my latest try for minimalist tennis shoes. I LOVE those shoes, they are super lightweight and comfortable. They are more durable and stable with better traction than other minimalist tennis shoes. The 360s are slightly heavier than Prio and HFS shoes, but still lightweight compared to traditional tennis shoes.
With rope-gripping rubber inlays and a high-traction sole, the all-new 360º is designed for any sports that require quick lateral movement.
The Xero Shoes 360 and Prio have upper constructions and have a reinforced toe with thicker leather and suede-like materials than HFS.
Get the look: Men's 360 | Women's 360
I'll update this post if I know of any good minimalist tennis shoes to share. So you can check this page later for new updates. Happy playing!
For a complete list, check out our List of Minimalist Barefoot Shoes.
As an Amazon Associate I earn from qualifying purchases. Thank you for your support!