Golf is a game that requires a lot of patience and concentration. Players must be able to play for long periods of time without getting tired or distracted. To do this, they need to wear the right shoes. A good golf shoe will provide support and comfort while also allowing players to maintain their balance on the course.  Fortunately, barefoot shoes have been widely accepted by the shoe industry. Such that, even makers of golf shoes are adapting to it. Barefoot golf shoes have tough but flexible outsoles with minimalist features. It is ideal for those who love playing golf barefooted but are not tough enough to completely ditch shoes.  There are many options when it comes to golf shoes, but not all of them are best for your feet. If you're looking for a shoe that provides comfort and stability with minimal interference with the swing or putting stroke, then these barefoot golf shoes might be right for you. 
If you are a barefoot shoes enthusiast, you may want to know this news:  You can save 20%+ off on all of XEROSHOES' new styles now through September 5th. Plus, earn an extra 5% off if you buy 2 or more new styles. They have limited quantities available for every new model, which will be hot commodities. So grab 'em while you can!  Check the deal here or click on below banner.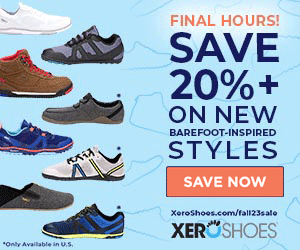 Disclaimer: Just so you know, if you order an item through one of our posts, we may get a small share of the sale at no cost to you. This helps support the site's running costs. Thank you!
The list of minimalist barefoot golf shoes
Vivobarefoot Men's Hybrid Golf Shoe
Vivobarefoot Men's Hybrid Golf Shoe is an innovative, high-performance golf shoe that combines the comfort of a barefoot feel with the support of a traditional golf shoe. This is a premium golf shoe with a rubber outsole. It has a classic look and feel, but it's also built for performance. The upper is made from 100% leather that will last you for years to come. The soft sole of the shoe is flexible and gives you great traction on the course. There are hex mesh ventilation holes inside the shoes, which keep your feet cool and dry all day long.
Pros
100% Leather built shoes.
The padded tongue is water-resistant and breathable.
The Hex mesh ventilating lining provides a comfortable, lightweight wearing experience.
The Dri-Lex lining wicks away moisture and dries quickly.
The 2.5mm outsole will have 4.5mm lugs to provide a level of grip and durability for the golfer's foot.
Cons
The shoe is slightly undersized for all their sizes. This won't affect the golfer's comfort significantly but people who need a perfect fit might have a problem.
Get the look: Vivobarefoot Men's Hybrid Golf Shoe
New Balance Men's Striker Golf Shoe
When your feet need to be on the ground, you need something sturdy like New Balance Men's Striker Golf Shoes. Affordable and lightweight, these shoes give unmatched traction with their durable TPU outsole so you can feel confident in every step. A water-resistant upper will keep all that water from getting through to ruin your day while a roomy toe box will let you wear any type of socks without feeling cramped or tight.
REVlite midsole in these golf shoes provides outstanding responsiveness and cushioning so you can get ready for a shot quickly without worrying about injuries from overplaying yourself. If there ever were any replacing of cleats needed due to wear then this shoe has champ slim-lok zarma tour® replaceable cleats, giving you what every golfer needs!
Pros
Made from 100% leather.
The upper is made of waterproof microfiber leather.
The outsole is designed to mimic the natural motion of your foot moving naturally on the course.
These are some of the lightest golf shoes on the market with lots of cushioning and premium responsiveness.
The insole is made of high-quality CUSH+ foam.
The waterproofing is warrantied for two years.
Cons
There have been a few issues with the insole being glued too tight & unreplaceable.
Get the look: New Balance Men's Striker Golf Shoes
Vivobarefoot Men's Linx Golf Shoe
While there are many different brands and models of golf shoes on the market, the Vivobarefoot Men's Linx is the only true minimalist golf shoe.
The Vivobarefoot Men's Linx Golf Shoe is a lightweight, flexible golf shoe that provides an excellent fit and outstanding comfort. The upper of this men's golf shoe is made from 100% synthetic material with breathable mesh panels for superior ventilation and support.
The Linx golf shoe features a natural last shape to ensure your foot remains comfortable throughout the round. A rubber outsole offers ultimate flexibility, while the natural movement outsole allows for a more natural gait cycle for better stability on uneven surfaces.
Pros
While most shoes are made of at least some part leather, this shoe is designed with 100% synthetic materials.
The rubber sole of these shoes is resistant to heat and cold.
This golf shoe features a natural movement outsole for stability.
More flexible than other leather-made shoes.
Cons
The shoe can be second-guessed for cleats. The company should work on making the design a bit more unique.
Get the look: Vivobarefoot Men's Linx Golf Shoe
ECCO Men's Biom Hybrid 2 Hydromax Golf Shoe
The Ecco Biom Hybrid 2 Hydromax is a waterproof golf shoe for the walker who wants to play in all weather conditions. The upper part of this shoe is made from water-repellent leather and synthetic material, which help to keep your feet dry even when it's raining.
The outsole has been designed with an innovative traction pattern that provides excellent grip on wet surfaces. The anatomical last shape hugs your foot for an exceptionally stable fit, and the removable insole allows you to customize the level of cushioning for your personal comfort.
The hydromax membrane keeps your feet dry as you walk through wet grass or water on the course. This men's golf shoe also has a synthetic sole that offers flexibility for walking between shots.
Pros
The size of the shaft measures approximately low-top all the way from the arch.
Yak leather provides exceptional protection while remaining soft and breathable.
These golf shoes were developed by scanning 2,500 athletes' feet to understand their unique needs.
Highly durable and wear-resistant material supports a tour-proven traction pattern.
Technical Insole System -A new insole with silicone printing prevents pesky foot movement.
The insole is removable.
Cons
The colors are too bland.
Get the look: Ecco Biom Hybrid 2 Hydromax
New Balance Men's Minimus Golf Shoe
The New Balance Men's Minimus Golf Shoe is my choice for the best overall barefoot golf shoes. It is a perfect blend of comfort, style, and durability. It features an ortholite insole for excellent ground contact, support, and comfort all game long. This shoe will help you focus more on your game, not sore feet or blisters.
This shoe allows for excellent ground contact, flexibility, great wear, and comfort with New Balance's adjustable heel construction to help keep the wearer stable.
New Balance has reinvented men's footwear by eliminating traditional features with a low-profile, spike-less rubber outsole and breathable microfiber. The shoe is strategically made for those who want to enjoy the active release of golfing without any distractions from their shoes.
Pros
The 100% microfiber leather material provides a comfortable, clean experience.
These golf shoes have a durable rubber sole.
This shoe features low-profile and lightweight support as well as a seam-free upper.
The heel-to-toe drop is 4mm.
The shoe has a durable yet flexible outsole.
The Ortholite insole will keep you cool and comfortable by wicking away moisture as your feet sweat.
Cons
Its shoelace hole can be worked upon to make it better.
Get the look: New Balance Men's Minimus Golf Shoe
Features You Should Look For When Buying
Feel
Check the best golf shoes for your feet by feeling their sole and heel. The best barefoot golf shoe will have a smooth, soft rubber that won't be too hard to wear without socks.
Look at how the laces are attached to the bottom of the shoe: if they're not all one piece from side to side, they can come undone during play or practice, which could cause you problems with stability in your swing or putting stroke–avoid this!
Size
Make sure any size measurements fit well on your foot before purchasing as many manufacturers run their sizes different ways. If unsure, it's best to err on the smaller side rather than larger because you can always return an item but once worn it cannot be exchanged.
Comfort
Comfort is a big concern when you're golfing. You'll want to find shoes that best suit your feet without being too stiff or cumbersome and with minimal points of contact on the foot for added comfort.
Fit
Make sure the golf shoe fits well around the heel, arch, and ball-of-foot before making your decision. If it's too tight in those areas, it could cause pain which would definitely take away from how much fun you have playing!
Waterproof or not?
If you live in a wet climate, or if the course is outdoors and weather changes often, then it's best to go with waterproof shoes. If not, they're still great for stability but may get slippery on some surfaces which could affect your swing!
Durability
You likely don't want to replace one pair of best barefoot golf shoes every year–invest in ones that will last over time so they can be utilized all throughout the season. Durable materials are preferred like sturdy leathers and rubber soles.
Breathability
You're on your feet a lot during play and if you have shoes that don't breathe well, then they could cause discomfort or worse–blisters. Make sure the shoe has material in key areas to help with breathability like mesh inserts for ventilation.
Weight
The weight of the shoes should be appropriate for your size. If they're too heavy, it could throw off not only how you feel but also how you swing and hit. The ideal weight for a golf shoe is under 12 oz.
Leather or synthetic?
Leather is the most common material in golf shoes because it breathes well and absorbs sweat like a sponge. It can also be stretched to accommodate your foot's growth over time without breaking down or wearing out, which means you'll have them for a while! Synthetics are great if they're waterproof as they won't break down from rain while leather will.
Conclusion
If you're looking to try something a little different, give these barefoot golf shoes a try. You may end up surprising yourself and find that they are the best thing for your game. Barefooting is all about freedom of movement – it's not just about footwear! Who knows? It could be exactly what you've been missing from your game since day one.
For a complete list, check out our List of Minimalist Barefoot Shoes.
As an Amazon Associate I earn from qualifying purchases. Thank you for your support!