Are you tired of wearing uncomfortable work boots that leave your feet sore and fatigued at the end of a long day? Look no further! In this post, we have gathered the best recommendations for zero drop work boots that prioritize comfort and functionality. We understand that many professionals, such as those in physically demanding professions, are often concerned about the narrow toe boxes and heavy soles found in conventional work boots.
That's why we have specifically curated a list of work boots that feature zero drop and wide toe box. Whether you require wide toe box safety boots, water-resistant shoes, non-slip shoes, or shoes for healthcare workers who spend hours on their feet, we've got you covered.
Disclaimer: Just so you know, if you order an item through one of our posts, we may get a small share of the sale at no cost to you. This helps support the site's running costs. Thank you!
Say goodbye to uncomfortable work boots and say hello to a new level of comfort and support. Let's dive into the world of zero drop work boots and discover the perfect fit for you!
If you are a barefoot shoes enthusiast, you may want to know this news:  You can save 20%+ off on all of XEROSHOES' new styles now through September 5th. Plus, earn an extra 5% off if you buy 2 or more new styles. They have limited quantities available for every new model, which will be hot commodities. So grab 'em while you can! 
Check the deal here or click on below banner.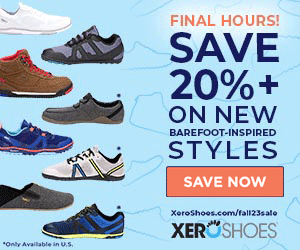 The List of Wide Toe Box, Zero Drop Work Boots
Safety boots
Dr. Martens Men's Tobias Boot
What do you know about the Dr. Martens Men's Tobias Boot?
Available since 2012, the shoe is a contemporary reinvention of the Tobias boot. It is easy to wear and has a classic look. It is made of 100% greasy lamper leather that makes it appealing to the eyes, soft in the hand, and light for the legs. The heel is less than 1" higher than the toe – perfect qualification for a zero drop boot.
The sole of this Tobias boot is another special feature that it possesses. The shoe has a cemented waffle sole to provide maximum comfort for your legs.
Get the look: Dr. Martens Men's Tobias Boot
Caterpillar Men's Brode Steel Toe Construction Shoe
The brand shows up again on the list with the Caterpillar Men's Brode Steel Toe construction Shoe made from 100% leather and a rubber sole.
Caterpillar is famous for producing strong mechanical equipment. With the kind of machines that they are known to produce, it should not be hard to know how strong or durable the caterpillar shoes will be.
The toe of the Caterpillar Men's Brode Hi Steel Toa Skate Shoe has the highest possible rating when it comes to shoes that can absorb impact or compression from external bodies like heavy objects. The sole of the shoe is rough enough to give you balance in slippery areas.
With these shoes, you can come in contact with open circuits that have up to 14,000 volts in dry conditions and this sole with such incredible resistance has a rubber look. Coupled with the top that is made from pigmented leather, the shoe is a perfect choice for people in the industrial and manufacturing sectors.
Get the look: Caterpillar Men's Brode Steel Toe Construction Shoe
Marugo Magic Safety Velcro Steel Toe Jika-Tabi
Marugo is a Japanese shoe company that has been in the industry since 1919. Today, they also manufacture safety shoes for industrial workers. Their products are known for their "unique feature of shoes (the big toe separated from the small toes)".
The Magic Safety Shoes are made from high-quality materials and are able to resist harsh impact. They are zero drop, and over the ankle. They have a composite toe cap and natural foot shape.
Marugo Magic Safety shoes have a slip proof rubber sole. They are not water resistant so it is not recommended to wear these shoes if you work in an environment where you will be exposed to water or other liquids.
The Marugo Magic Safety shoes are the perfect shoe for people who do not want to compromise on comfort and safety but also want to stand out with their unique style. Their lightweight design makes them very comfortable. And they come in various sizes, so you can easily choose one that fits your feet.
Get the look: Marugo Magic Safety Velcro Steel Toe Jika-Tabi
Danner Men's Tachyon 8" GTX Duty Boot
The Danner Men's Tachyon 8" GTX Duty Boot qualifies to be a zero drop boot and it stands out from the other zero-drop boots because it extends up above the ankle.
Its sole is made of 100% durable rubber that keeps the boot intact after every use. The sole has the shape of a pentagon to provide flexibility and traction. Overall, you will love the sole for the comfort, mobility, and grip that it gives.
An excellent feature in the design of the Danner Men's Tachyon 8" Duty Boot is that it is easy to wear. You can easily slip your feet into the boot and tighten it in a matter of seconds.
Looking long and thick, one would be scared that the boot might impede easy movement. However, its lightweight is another remarkable and unbelievable feature. This is achieved by using 500 denier nylon, a material that provides more strength with less weight.
It's hard not to adore this footwear. Waterproof, durable, light, comfortable, and a fast dry time. A choice if you need zero drop work boots.
Get the look: Danner Men's Tachyon 8" Duty Boot
Reebok Work Safety Shoe
The Reebok Work Safety Shoe is another classic boot from the Reebok brand.
The top is made from suede leather which gives it a very beautiful look. The sole is made of rubber and it comes with no heel. The toe box and electrical resistance are what you need to stay safe and peng while you are at work.
Get the look: Reebok Work Safety Shoe
Non-Slip Shoes
Skechers Synergy Ekron Alloy Toe Work Shoe
Designed with alloy toe, this boot can be worn in any kind of weather because it does not conduct either cold or heat. Although these shoes are not really barefoot but they are designed from light-weighted materials which makes the boot light and easy to lift.
The leather used for making this boot is 100% synthetic Trubuck leather and that is not all. The sole of the boot is also synthetic. Other than having synthetic leather and sole, the Skechers boot comes with a memory foam that makes your feet comfortable while working. With the memory foam, you can work for hours and you won't have to worry about your feet hurting when you are done.
You do not have to worry when you are walking by a slippery area with the Skechers zero drop work boot because the boot is slip-resistant and if your work exposes you to electrical hazards, then this boot is an excellent option as it does not conduct electricity.
Get the look: Skechers for Work Men's Synergy Ekron Alloy Toe Work Shoe
Water-resistant shoes
Xcursion Fusion
The next zero drop work boots to be considered is the Xcursion Fusion from Xero Shoes.
The unique attribute of this zero drop work boot is that it is fully waterproof. This is the right choice for you if you work in wet enviroments. The shoe is an example of ruggedness that comes with comfort.
The front of the shoe is designed to protect the toes. Lying behind the outside material of the shoe is a membrane that ricochets water and keeps moisture away from your legs.
Being a zero drop shoe, the heels and toes are on the same level but with the Xcursion Fusion. The bottom of this shoe is designed to give you comfort, grip, and control. It has a FeelTrue sole, a dual chevron tread, and also a TrueFoam.
This shoe goes with any kind of dress so you can enjoy the super feel that the shoes give your leg and the beauty that it adds to your appearance.
Get the look: Men's Xcursion Fusion | Women's Xcursion Fusion
Sorel Men's Ankle Waterproof Boot

When you look at the Sorel Men's Ankle Waterproof Boot, one of the first things that you will notice is its rubber sole. But there is more to this boot than an attractive sole.
You can wear this shoe in the rain without getting your feet wet or having a smelly shoe. The top of the shoe is made of 100% leather with sealed seams to repel water so that your feet remain dry at all times.
This boot is yet another one that merges comfort with ruggedness. Its sole is to bring the comfort that you need and the design ensures that the boot is all that you need. Designed to be worn for different occasions, the Sorel Men's Ankle Waterproof Boot is sleek and stylish. This comes as no surprise however as the Sorel brand is recognized far and wide for producing footwear that is fashionable and can serve different purposes.
The inside of the boot presents that comfortable feel that you desire while the outside has a rugged design to protect your feet.
Get the look: Sorel Men's Ankle Waterproof Boot
Vivobarefoot Tracker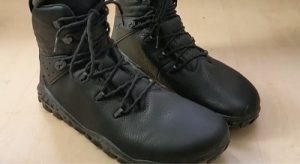 The Vivobarefoot Tracker boot is made for people who are looking for an all-purpose, all-weather shoe that can take a beating. The boot also has an accordion design that allows the foot to have more room when it expands due to heat or moisture. It features a puncture resistant outsole, and 1/4 inch lugs for traction.
The Tracker is a staple for anyone who wants to have a fully waterproofed, sturdy boot. The leather is hard-wearing and can withstand anything you throw at it. And not only are they durable but they are also flexible, flat, and easy to wear. .
The Vivobarefoot Tracker is a solid boot whether you use it for hiking or as a work shoe. These boots are not super heavy duty, so if you don't require a steel toe and safety rated boot i'd suggest the Vivobarefoot Tracker.
Get the look: Men's Tracker // Women's Tracker
Wide toe box shoes with cushion (for nurses, other healthcare workers, those with long shifts, etc)
Altra Men's ALM1895H Smith Boot
Altra Men's ALM1895H Smith Boot is made of 100% leather and rubber sole.
Its insole, midsole, and outsole are designed to give you a very comfortable experience whether you are walking or running.
Another advantage of having this boot is its sleek design. Want zero drop work boots that give you a corporate look? Choose the Altra Men's ALM1959H Smith Boot.
Get the look: Altra Men's ALM1895H Smith Boot
Lems Waterproof Boulder Boot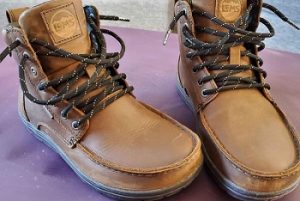 The Boulder boot is a minimalist and zero drop shoe. It is spacious in the toes, giving you the feeling of walking on air. And it has a flexible sole that makes it comfortable to wear for long periods of time.
The Boulder is a light work boot that offers adequate protection for your feet while giving your feet the freedom of movement you expect from a barefoot shoe. It is made up of high-quality materials, which are waterproof in case you work in wet areas. The padded ankle makes it comfortable and easy to wear, even when you are walking long distances. The thick sole provides a lot of grip on slippery surfaces and protects your feet from sharp objects.
The boot is an excellent choice for those who want a protective shoe that can be used in many different situations.
The downside is that it doesn't have toe protection and their sole is not slip-proof. However if you don't require them, Tactical Research Mini-Mil are a shoe worth considering.
Get the look: Men's Lems Waterproof  Boulder Boot || Women's Lems Waterproof  Boulder Boot
Terraflex II Trail
If you need shoes that allow you to have control of your legs while running and still offer maximum protection for those feet, then the Terraflex Trail is what you need. Shoes that have excellent grip and are easy to lift. If that sounds like what you need, then you need to get a pair of the Terraflex trail.
The shoe is designed to give your feet freedom. You can move, bend or twist your feet anyhow you like while wearing the shoe. It comes with a XERO-drop sole that qualifies it as a zero drop shoe. The XERO sole gives you balance and agility and allows you to maintain a proper posture.
For a Terraflex shoe of size 9, it weighs just 9.6 ounces. This shows how light the shoe is. You can wear it and not feel it.
If you are big on warranties, the Terraflex rubber sole that provides comfort has a 5000-mile warranty. The shoe performs a lot of functions with its special features that include an adjustable in-step strap and reflective straps that shine when it gets dark.
It is important to note that no animal products were used in the production of the Terraflex Trail. All materials used are vegan-friendly.
Get the look: Men's Terraflex II Trail | Women's Terraflex II Trail
Buying Guide for Zero Drop Work Boots
Zero drop vs traditional
Each has its own benefits and drawbacks. Here's a look at the pros and cons of each type of boot to help you decide which is right for you.
Zero drop work boots are becoming increasingly popular. They have a minimalist design and are often lighter than traditional work boots. They also tend to be more comfortable and provide better support for your feet and ankles. The main downside of zero drop work boots is that they're not as durable as traditional work boots. They also don't provide as much protection from the elements. If you're looking for a boot that will last longer and provide more protection, traditional work boots are a better option.
Traditional work boots are heavier and more durable than zero drop boots. They're also typically more expensive. However, they provide more support and protection from the elements. If you're looking for a boot that will last longer and provide more protection, traditional work boots are the way to go.
There are a lot of zero drop work boots so when you are shopping for one, how do you know how to pick the best? Some qualities will let you know whether a certain boot is the right choice or not. These qualities are discussed below.
Support and Comfort
These two qualities go hand-in-hand. The sole of a zero-drop work boot being a tiny one gives you a barefooted feeling. This means that if you are walking on a rough surface you feel the roughness of that path. This explains why zero drop work boots might not provide the best comfort. However, the lightness of the boot and the rubber sole ought to provide such comfort that it is easy to run or walk for a long distance without feeling any pain.
You should not be looking for perfect comfort from a zero-drop boot because of its barefoot experience, rather you should focus on the kind of support that it offers. The boot ought to be able to adjust to the shape of your feet and make you feel happy after a short time.
Durability
Like any other work boots, you won't like to change your footwear every month so it is only necessary that you consider the durability of a zero-drop boot before you buy one. Good zero-drop boots will thrive in any climate condition. You can wear them when it is rainy and when it is sunny, and the weather is cool.
The boots must be lightweight but this should not affect their strength. Good zero-boots won't tear when they are used on rough surfaces. The material used for the top of the boot as well as the sole, and even the stitching material must be strong and made of durable material.
Even if it requires that you have to spend some extra money to get a durable material, it is worth more than buying a pair that can tear after a while.
Zero-drop Heel
The sole of the boot is what makes it a zero-drop boot. So, if the heels of the boot are not on the same level as the tip, then it is not a zero-drop boot and you should drop it. The essence of wearing zero-drop boots is to help with your posture and avoid pain in the back, spine, and heels.
Quality Material
The quality of the material used to make a zero-drop boot influences its aesthetics, functionality, and durability. This is the part where you consider the color of boot that you want, the material that will be comfortable for you, and the activity that you plan to use the boot for (work or exercise).
There are a lot of zero drop boots available for you to choose from. You must know how to choose the good ones from the bad ones. Also, you need to find the one that will be most functional for you. Support and comfort, durability, and quality material are some qualities that you must consider before buying a zero-drop boot.
For a complete list, check out our List of Minimalist Barefoot Shoes.
As an Amazon Associate I earn from qualifying purchases. Thank you for your support!