Barefoot shoes vs regular shoes
Have you ever wondered which type of shoes is better for your feet? Do you have problems with the soles of your feet and need something different than regular shoes? Or do you want to feel more connected to the ground when running or walking and know that barefoot is best?
Disclaimer: Just so you know, if you order an item through one of our posts, we may get a small share of the sale at no cost to you. This helps support the site's running costs. Thank you!
This article compares them to different factors to help you make an informed decision.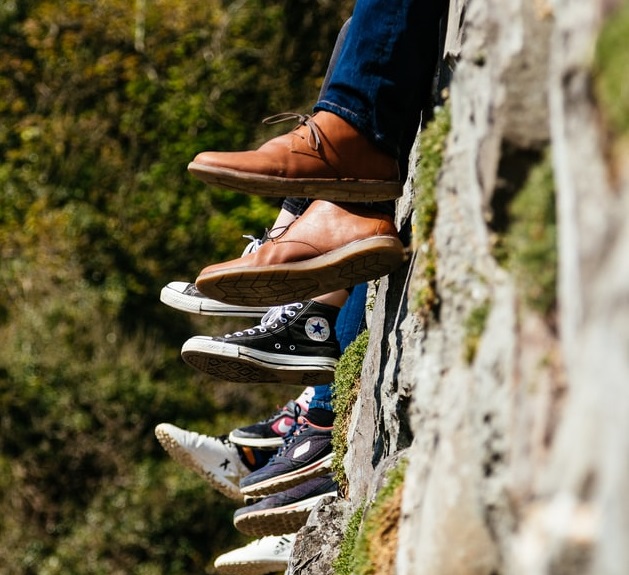 Weight
The weight of Barefoot shoes is lighter than regular ones. They generally weigh less than 200 grams. They are easy to put on and take off, making them great for people who have a difficult time moving around when they're wearing heavy footwear.
The weight of shoes can have a big impact on your feet. They can make it more difficult to walk around and work out, as well as feel uncomfortable during the day. The good thing about barefoot shoes is that they are lightweight and don't weigh you down while exercising or walking around throughout the day.
Heel Drop Difference
The heel drop is also different between barefoot and regular footwear. Most regular shoes average about 12 mm when it comes to their heel drop difference. However, barefoot shoes in contrast have a difference of less than 8 mm. This gives you more ground contact while walking or running without any of the wire support that padded heels provide.
If you're someone who loves to run or walk, then barefoot shoes are the best option for you.
Outsole & Midsole Difference
Barefoot shoes also have an outsole that mimics the feet's natural traction. The thickness is about 2 – 4 mm for most shoes. Regular runner shoes on the other hand are easily over 10 mm.
If we compare midsole thickness then barefoot ones are in the range of 0-3mm. While this number is in the 6mm & above for regular ones. This difference is what makes barefoot shoes more connected to the ground compared to regular ones.
Upper Toe Box Difference
One of the major differences between regular shoes and barefoot ones is in their toe box. Barefoot shoes have very little if any padding on the upper part that covers your toes to protect them from anything they might come in contact with. Regular running/walking shoes either cover this with a big padded area for protection or leave it open to let air flow through. The sole of regular shoes curves upward on the toe area. This puts excess pressure on the muscle tissues present underneath your feet. This pattern is very minimum in barefoot shoes.
Barefoot-style footwear has less material covering up your feet because they are meant for walking without any clothing on top of them – which means there's nothing in the way!
The other benefit of barefoot-style footwear is that it leaves an opening at the end so your toes can splay out and move freely without being restricted.
Toe Spring Difference
The toe spring is also different between regular shoes and barefoot ones.
Most running/walking shoes have a little bit of extra material at the front that can help with cushioning when walking or running on hard surfaces. Barefoot-style footwear does have a limited degree of toe spring in its front area but is not as pronounced as generally seen in regular ones.
But, if you're someone who likes to feel connected to the ground when you walk or run then having a flat surface under your feet without any extra padding is what you want. It will give you less interference while exercising so that you can move freely as well as provide better flexion within the foot arch.
Breathable Material
Barefoot shoes allow airflow between your foot and the shoe itself so you don't end up with sweaty feet or uncomfortable heat from synthetic materials touching sweat or water. Running in Barefoot shoes will also help keep your feet feeling better at all times!
Most regular running shoes use synthetic materials which usually aren't very breathable, especially when they come into contact with sweat or water. Barefoot shoes allow for air to flow through them so that your foot doesn't get hot and sweaty like in most other types of footwear. This keeps your feet feeling better at all times!
You may also like: Benefits of Barefoot Shoes, Do you wear socks with barefoot shoes, and Barefoot Running Tips for Beginners
Final Verdict
The difference between no-drop shoes and a low heeled shoe. Image: REI
Minimal Shoes
Lightweight, bendable materials
ZLess than 8 mm heel-to-toe drop
Wide toe box
Good for people with more calf flexibility and ankle mobility
Traditional Shoes
Thick heel cushioning and stiff soles
A 10 to 12 mm heel-to-toe drop
Narrow toe box
Good for people with an aggressive heel strike, tight calves
Barefoot shoes are better than regular shoes. They promote natural movement and have many benefits for the feet, so you should switch to them if you haven't already!
As an Amazon Associate I earn from qualifying purchases. Thank you for your support!