Long before minimalist barefoot dress shoes became popular, men and women often had to end their everyday activities with sore feet, and the reason for this is quite simple. Modern trends for non-minimalist shoes are designed too narrow, stiff, and with a heel drop that makes staying in them for long hours uncomfortable.
Today, there are tons of minimalist shoes to pick from, but we have made a list of the ones we love and think almost anyone would love too. The minimalist shoe options on this list could make an excellent pick for men who want to appear dressy enough for black tie events; weddings, meetings, offices, etc.
However, not all of them can fit the formal lifestyle but are all a healthy choice compared to modern non-minimalist shoes.
Disclaimer: Just so you know, if you order an item through one of our posts, we may get a small share of the sale at no cost to you.
The barefoot dress shoes on this list are lightweight, designed to conform to the natural shape of the human feet, and have a zero-drop design with more open space at the toe region.
Here is a list of minimalist barefoot dress shoes you should give a try.
The List of Minimalist Barefoot Dress Shoes
Freet Richmond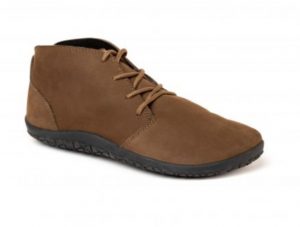 The Freet Richmond are simple yet stylish shoes that are perfect for a dress or a more sophisticated casual look. These leather barefoot shoes are fully flexible, which allows your feet to have room to breathe and to sit comfortably in the shoe. They also possess a zero-drop, which means that the front of the shoe and the heel are the same height to enable natural movement in the shoe. The ConnectMax EVA 2mm midsole, ensures excellent ground connectivity when the shoe is worn without an insole. The Flexile removable 2.5mm insole can be removed to add to the barefoot feel but can be kept in to enable more comfort. As it works as a shock absorbent, cushions your feet when you're on hard flat surfaces.
Get the look: Freet Richmond
Carets ZETONE Plain-Toe, Black
The Carets ZETONE Plain-Toe, Black is a classy minimalist shoe choice to complement your appearance for any formal occasion. This shoe has a durable polyurethane sole with a soft and smooth texture and a lower density than modern non-minimalist shoes. The sole material of this ZETONE Plain is wear and tear resistance and has high elasticity along with excellent shock absorption. This makes it an ideal shoe for foot comfort while working, playing, or traveling for long hours. The Carets ZETONE is lightweight and has an intricate detailing that is unique and versatile enough to make any man wearing it appear stylish, elegant, and more distinguished. For as long as you keep this shoe on, the zero drop-down style will ensure that your feet are kept in the most natural position ever and the chances of developing sore feet eliminated.
Get the look: Carets ZETONE Plain-Toe
RA II MENS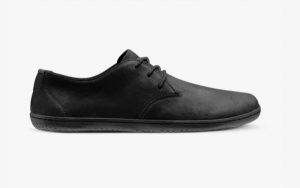 The RA II MENS is a subtle, elegant, and high-quality minimalist shoe that makes transitioning from work to play a lot easier. If you always enjoy the feeling of having your bare feet against the soft ground, the RA II has a 4mm active thin sole perfect for such underfoot freedom. The RA II MENS shoe is designed to conform to the natural shape of the feet, strengthen your feet muscles and use the natural cushioning of the feet. This could help to reduce foot pain, knee pain, and back pain. This shoe also features a 3mm removable natural cork insole that is antibacterial and can prevent the growth of odor-causing bacteria. The only setback with this shoe is that it could feel too barefoot to be worn for long hours on concrete floors. Adding an extra padded insole could fix this issue perfectly.
Get the look: RA II MENS
WOMEN'S BOULDER BOOT LEATHER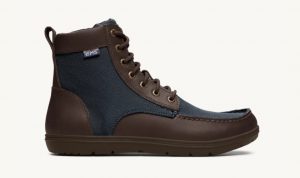 The WOMEN'S BOULDER BOOT LEATHER has a 0.00mm (zero-drop) design that keeps your feet in their natural position while also improving balance and mobility. This shoe has a feather lightweight of 9.9 oz. and LemsRubber™ air-injected outsole that's soft, flexible, and provides side-to-side stability and support to the heel during heavy impact of landing. The 3.5mm removable moisture-wicking PU insole offers long-lasting comfort for roomy footwear and makes it an excellent option for a wide range of physical activities from casual walking to hiking, running, etc.
Get the look: WOMEN'S BOULDER BOOT LEATHER
XERO SHOES Melbourne – Men's Chelsea Style Boot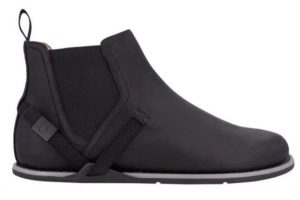 5,000-mile sole warranty seems like a lot, but XERO promises this with the confidence that this minimalist shoe is lightweight and subtle but also highly durable. The XERO SHOES Melbourne has a flexible, non-elevated zero-drop heel that allows for natural motion. Your feet can flex and bend naturally while you enjoy maximum balance and agility with its low-to-ground design. While this shoe is minimalist enough to let you work and play effectively and naturally, its FeelTrue rubber sole gives your feet just the right amount of protection it needs to stay sore-free.
Get the look: XERO SHOES Melbourne – Men's Chelsea Style Boot
GOBI II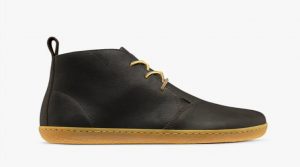 The GOBI II is a natural fit and super comfortable men's shoe that will easily be loved and admired by anyone who appreciates quality and enjoys a minimalist sole that lets the feet do their thing. The GOBI II is well crafted with thick but soft leather that makes it suitable as a classic desert boot and also looks amazing when polished up for a dressy or formal look. This shoe has high-quality leather, and the "wildhide markings" make it even more unique and distinguished for the minimalist lifestyle. This shoe is comfortable and suitable for hiking, walking, running, bike riding, sledding, dressing up, dressing down, snow-man-building, travel, and more.
Get the look: Men's GOBI II || Women's GOBI HI IV
Fit in Clouds Satin Portable Folding Flats with Bag for Everyday wear
We love the Fit in Clouds Satin barefoot shoe for a lot of reasons, but the fact that it can easily fit in your purse, handbag, and glove compartment makes it adorable. The Fit in clouds satin is the closest you can get to the floor as they happen to have a very flat rubber sole that is lightweight but can also provide your feet with cushioning and maximum protection. This shoe is a perfect add-on when going out on occasions that require wearing uncomfortable high heels as they can help keep your feet natural on the ground, relieve heel pain and sore feet. This shoe is perfect for work/formal events, weddings, travel, late-night events, etc.
Get the look: Get the look: Fit in Clouds Satin
Chukka Suede
Chukka is one of the latest editions to the Lems line. You may dress it up or keep it casual in absolute comfort because it's one of our most adaptable shoes. The wide toe box, zero-drop platform, and ultra-soft suede let you effortlessly move without stress.
The IBR outsole of the Chukkas sparks users towards actions while keeping them very light and flexible. Your feet will be able to keep going even when you've just stomped out, thanks to the zero-drop design.
Get the look: Men's Chukka Suede || Women's Chukka Suede
Birchbury Men's Bramfords
Bramfords are a pair of minimalist dress shoes that not only look fabulous but also don't discomfort your feet. It has a wide-toe and flexible form of Bramfords provides an optimal human foot function while it looks gorgeous and feels ultra-comfortable.
Bramfords are a hybrid of the two worlds. When flip-flops aren't acceptable, this is the footwear to wear. When applying weight on the forefoot, it should be broad enough to allow complete mobility. These shoes fit perfectly well with the charts. It is not only lightweight and highly comfortable for people with wide feet. It also provides fashionable yet minimalistic dress shoes for your day-to-day events. You can also pair them with your formal outfits.
Get the look: Birchbury Men's Bramfords
Alston – A Barefoot-Friendly Dress Shoe
The Alston is a perfect pick for you if you require something dressier than our casual day-to-day styles.   A full-grain buffalo leather Oxford-style lace-up shoe. You may leave it natural or oil or wax it to give it a new appearance.
While this is high-quality leather, it will take some time to "break in" the Alston. With under 12 ounces each shoe for a men's 9, you could forget you are wearing the Alston for the whole day.
Get the look: Alston – A Barefoot-Friendly Dress Shoe
Fer Cap-Toe, Black
Black cap-toe Fer Oxford is the ultimate business shoe. It has a healthy zero-drop design, a comfy feel, and a classic design. The cap-toe on the Fer seems to tighten the toe box, giving it a sleek look. It's perfect for an interview or presentation.
Cap-toe Fer Oxford is a perfect pick for those who want formal yet barefoot shoes. A perfect example of a minimalist dress shoe. Customers love how effortlessly beautiful it looks, it's nice lacing and overall look.
Get the look: Fer Cap-Toe, Black
Jousen Men's Oxford Shoes
An elegant shoe with retro vamp style made up of 100 percent leather and imported rubber sole. It's a simple wear-resistant non-slip rubber sole with a minimalist design. A high-quality cowhide fabric, texture, and lightness distinguish these leather sneakers. The simple version is delicately carved and fits nicely against the arch for a relaxing stroll.
Get the look: Jousen Men's Oxford Shoes
ADDIS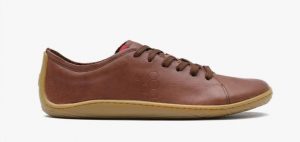 Addis are handcrafted and designed for free-spirited feet.  The Addis is minimalist ergonomic footwear manufactured in Ethiopia for amazingly comfy wherever you go next. Retro lace-up design with a hand-stitched design that provides a barefoot sensation for everyday spontaneous interaction.
Get the look: Men's Addis || Addis Womens
Hana Leather – Men's classy casual shoes
The lace-up technique was influenced by the Huarache sandals. Low-to-the-ground for flexibility and stability. The redesigned Hana is far more comfortable. A performance dress shoe with ultra-soft leather at the top and velvety smoothness inside.
The understated, understated style screams "casual elegance." Inside and exterior, filled with leather, provide super smooth comfort. These are formal enough for trousers and a tie, yet casual enough to pair them with your jeans.
Get the look: Hana Leather
Women's Foldable Portable Travel Ballet Flat Roll Up Slipper Shoes
Women's Foldable Portable Travel Ballet is a perfect pick for Wedding ceremonies, Events, and Activities. You can match these with your gown, and wrap them up and store them in your luggage. It has a  multi-package option for weddings or other events.
These aren't your run-of-the-mill, all-day footwear. These are only for urgent situations, in cases when you feel tired of your heels and boots. They are very lightweight and comfortable.
Get the look: Women's Foldable Portable Travel Ballet Flat Roll Up Slipper Shoes
Nine2Five
Meet the Nine2Five, a minimalist dress shoe. This oxford-type shoe has a toe box that's also bigger than your cubicle and is super lightweight. This toe-cap oxford shoe is fantastic for any workplace setting, and it will make your cocktail hour journey much more pleasurable with its comfortable shoe form, lightweight full-grain leather top, and elastic outsole.
The level of pleasure and comfort with these shoes is unrivaled. They are perfect for winter seasons as they're not slippery and have a thick felt to them. It doesn't let the cold get through.
Get the look: Men's Nine2Five || Women's Nine2Five
Prio All-Day
Prio All-Day allows your feet to do what they do best – bend, move, flex, and feel – results in comfort with durability. An ll Xero Footwears include non-elevated "zero drops" heels for good posture, a minimal style for optimal balance. It also provides ample flexibility that provides "just right" support so you can stretch, move, and flex.
Get the look: Men's Prio All-Day || Women's Prio All-Day
You may also like: Minimalist Everyday Shoes, Barefoot Shoe Brands, Barefoot Shoes Vs Regular Shoes: Which One Is Better?
Conclusion
Once you start wearing barefoot shoes, there is no going back. The blissful feeling of moving your feet freely and without any discomfort or pain. However, all of your dress shoes are suddenly unbearably uncomfortable! The real struggle is to find minimalist dress shoes that best suit you. It is good to know, with the modern technologies available. They will make you feel like shoe styles appear to have been developed by the footless. A wide range of minimalist dress shoes is available in the market; you can have them effortlessly through online shopping. Hope on to our journey in search of the right one for you. They're referred to as professional, dress, or office barefoot shoes.
As an Amazon Associate I earn from qualifying purchases. Thank you for your support!