Basketball is a sport about quick turns, fast sprints, and agility. Even amateur basketball players know they need to take their shoes seriously. Poor-quality runners will slow you down, trip you up, and lead to foot injuries. These days, many basketball players are turning to minimalist shoes. Their lightweight design can increase turning speed and improve foot health.
It's a bit hard to find minimalist basketball shoes that are lightweight, and have wide-toe boxes, and low-zero heel drop but there are still some models that are close to perfect! Here is a list of great barefoot minimalist basketball shoes to try out.
Disclaimer: Just so you know, if you order an item through one of our posts, we may get a small share of the sale at no cost to you. This helps support the site's running costs. Thank you!
If you are a barefoot shoes enthusiast, you may want to know this news:  You can save 20%+ off on all of XEROSHOES' new styles now through September 5th. Plus, earn an extra 5% off if you buy 2 or more new styles. They have limited quantities available for every new model, which will be hot commodities. So grab 'em while you can! 
Check the deal here or click on below banner.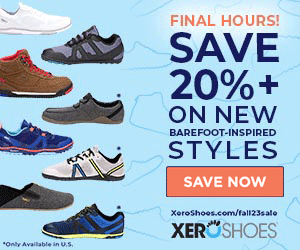 The List of Barefoot Minimalist Basketball Shoes
Nike – Kyrie Flytrap
The Kyrie Flytrap is a great basketball shoe and is affordable considering that it is from Nike. These shoes are part of a series associated with basketball star Kyrie Irving. It offers excellent traction, low weight, and breathable fabric. It also comes in various colors, so you can find a style that matches your taste.
Cushioning on the Flytrap is a bit thin. This is a benefit for the barefoot experience, but it means your foot is less protected for long sessions. Your feet will be comfortable for a basketball game, but do not try to run a marathon in these shoes.
See more details and photos on the Nike Kyrie Flytrap
Xero – Speed Force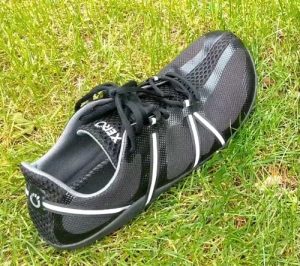 If you are looking for minimalist basketball shoes at a reasonable price, the Speed Force by Xero is a great place to start. This is the lightest shoe offered by Xero – it's fast, agile, and offers good traction. It also includes a 5,000-mile sole warranty, making it an excellent choice for folks who are hard on their shoes.
One of the downsides of the Speed Force is ankle support. This is a low-weight low-top, so it isn't surprising that there is no ankle support to speak of. If you have a history of rolling your ankle, you will prefer one of the high tops on this list.
See more details and photos on the Speed Force: Men's | Women's
Vivobarefoot Magna Trail II FG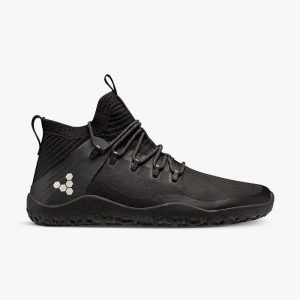 The Magna Trail II FG from Vivobarefoot has fully embraced the barefoot experience. It promises flexibility, a wide toe box, and a thin sole, giving you an excellent feeling through your feet. These shoes are also versatile, fitting in at the basketball court, the hiking trail, or the office.
The Magna Trail is really held back by its price. These shoes are several times more expensive than other items on this list. If the cost isn't a concern, these shoes offer a barefoot experience like nothing else. If you are looking for dedicated basketball shoes at a modest price, the Magna Trail probably isn't for you.
See more details and photos on the Vivobarefoot Magna Trail II FG
NIKE Kobe A.D. NXT 360
AD NXT 360 Kobe is a well-cushioned shoe for indoor ballgame. The Kobe AD NXT 360 is good for you if you need a minimalist basketball shoe that is both light and breathable, but supportive and durable.
The Nike Kobe AD NXT 360 comes with a sleek low-top design, a 360-degree Flyknit upper, and a lightweight midsole made of Lunarlon and the new Nike React technology. It's truly as close to a minimalist basketball sneaker as it can get.
The shoes are designed to be better than any other shoe because it more closely mimics your foot, which helps with performance. It's like having feet strong enough to play barefoot…but it's just your shoe.
Some people were nervous about the lateral stability of the shoe, because of its foot-shaped design and there is no external outrigger.
Nike Kobe NXT 360 runs true to size. As the forefoot section of the shoe is nearly transparent, you can tell whether you choose the right size. If you think the shoe is too long, I suggest you measure your foot to make sure you wear the size you expect.
See more details and photos on the NIKE Kobe 360.
Xero 360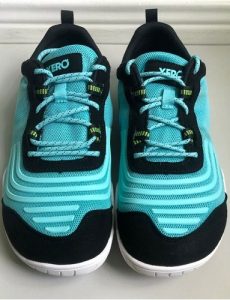 The Xero 360 is a multipurpose court shoe. The Xero 360 features a lot of grip and enough cushioning when you're out playing ball.
The 360 shoes are designed to provide a more natural and comfortable experience for your feet. The wide toe box allows your toes to spread out and grip the ground better, while the close-to-the-ground design provides a more stable and efficient stride. The shoes are also lightweight and have enough cushioning to protect your feet from impact without sacrificing agility or speed.
The 360 shoes are durable and they have flexible rubber which makes them suited to the court or the road. With a flexible sole, zero drop heel, and wide toe box, the Xero 360 is a good minimalist shoe for basketball.
For barefoot newbies, it may be uncomfortable to wear barefoot shoes at first, but after wearing the shoes for a few sessions, it will get better. Once you start wearing them regularly, your feet will adjust and the sore will be gone.
See more details and photos on the Xero 360: Men's | Women's
Xero Kelso
Kelso, the new model from Xero, is the ultimate in barefoot basketball shoes. It has a wide foot-shaped toe box to give a little extra space to accommodate your feet, while the flexible 6.0mm FeelTrue® sole has a herringbone tread pattern that helps you feel stable when you need to balance in the game. Not only has all barefoot features, but Kelso is also more cushioned than the Xero 360 which is an excellent feature for basketball.
They're lightweight, yet grippy enough for basketball matches without shelving you out of the game. Plus, the Kelso is also a casual minimalist shoe that is stylish enough to wear for any type of casual attire. It is designed to help you keep your feet comfortable in all play.
Overall, in my opinion, the Kelso kind of fits a sweet spot of having all features you can expect from barefoot shoes while also providing the good support and traction you need from basketball shoes.
See more details and photos on the Xero Kelso: Men's | Women's
FAQs
Why buy a pair of Barefoot Basketball Shoes
The body changes as we wear our shoes – when you wear minimal shoes, your foot feels nothing. The muscles and bones, tendons, and ligaments wear over time. And since other forms of shoes do not offer such intense stimulation on these parts, wearing a pair of barefoot shoes provides relief for your foot.
Newly designed shoes have features that make them excellent for people who spend a lot of time on their feet. Their flexibility makes it easy to quickly change direction, like basketball players do, but they maintain comfort and quality, important when you're constantly on your feet.
What to consider when choosing minimalist basketball shoes?
If you're looking for a minimalist basketball shoe, there are a few things you should keep in mind. First, you want a shoe that is lightweight and breathable. You also want a shoe that is comfortable and won't distract you from your game. And finally, you want a shoe that provides good support and traction. Minimalist shoes are designed to provide less support than traditional basketball shoes. This can be good or bad depending on your needs. If you have a history of ankle or foot injuries, you may want to stay away from minimalist shoes. On the other hand, if you're looking for a more natural feel during your game, minimalist shoes could be a great option.
For a complete list, check out our List of Minimalist Barefoot Shoes.
As an Amazon Associate I earn from qualifying purchases. Thank you for your support!