Winter is knocking at the door and we know you must be ready to boost yourself for fighting this wintry, snowy weather. During winter it's very essential to protect your feet from the freezing rough weather, ice, snow, and rain. That is why it's essential to choose a shoe that will keep your feet warm and dry. Otherwise, shoes that will not provide satisfactory protection and grip will make you feel Incommodious and more likely to fall over. So this winter, let's invest in some perfect minimalist barefoot winter boots that have warm, waterproofing, zero drop and good traction.
Here in this article, we have compiled the names and features of the best minimalist winter shoes to help you out in taking care of your feet. These shoes are also very flexible and will provide the least interference with your walking, running and make you feel comfortable all the time. Let's dive deep into the list as winter is coming!
Top 9 Minimalist Barefoot Winter Boots
Denver Boots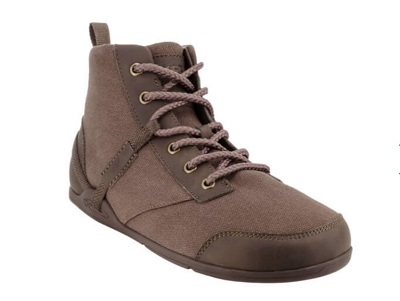 We are enlisting the names of the best minimalist winter shoes and Denver will not be there, how could it be possible. With a wide range of sizes, natural barefoot feel, and a comfortable and stylish look Denver is one of the most preferred winter shoes created by Xeroshoes. This Vegan-friendly, ankle-length minimalist footwear is gonna fulfill every criterion of a perfect winter boot.
Denver has waterproofing canvas, soft-woven lining, and heat-reflecting heated-up insole. The perfect combination of this trio makes it an undefeatable opponent of winter.
Also, Denver is a very lightweight footwear with 12 ounces each for men's 9. After all, Who doesn't want to put on some shoes that will make them forget that they have them on?
This minimalist winter boot has an extensive toe box and low to the ground design to make you feel utmost comfortable with proper balancing and it will also let you spread your toes.
Denver comes up with a flexible sole and "zero drops" heel that will help you to keep your natural posture and along with your spontaneous movement.
In winter it's very important to wear boots with good traction and that's why Denver is here with its High-traction FeelTrue® rubber sole with dual-chevron pace for perfect grip over all kinds of terrain.
This is also a perfect durable shoe for winter with a 5000-mile sole warranty. So enjoy the chilly air with the real comfort of Denver.
Get the look: Denver Boots
Merrell Women's Barefoot Frost Glove Waterproof
Frost Globe is one of the most flexible and stylish Minimalist Winter shoes for women created by Merrell, who has been making boots since 1981. With a wide range of size selections, this barefoot shoe is available in two different colors that are charcoal and black. Whether it's about keeping your feet warm or getting a barefoot comfort along with amazing looks and other required fundamental features, this footwear is gonna win your heart. Some other key features of this product are mentioned below.
With 4mm compact midsole cushions, Frost Glove will let your foot feel the ground just like natural barefoot. Also, the midsole and Strobel seamed structure make this boot very flexible and comfortable as well.
This minimalist winter shoe has "zero heels" that land your foot on mid-hill and helps you to maintain a perfect posture.
Frost Glove comes up with a light water-repellent membrane on the outside and a warm soft lining and PrimaLoft insulation inside, which is perfect for a snowy wintry season.
Also for additional warmth, this boot has a 3 mm heat-reflective covering in its footbed and for good grip, it has a Vibram rubber outsole.
Despite these features, Frost Gloves also have some amazing features, like it's easy to dry and has amazing durability with the guarantee of Merrell.
Get the look: Merrell Women's Barefoot Frost Glove Waterproof
GROUNDIES Odessa GS1 Women Barefoot Shoe
Odessa GS1 is considered to be a stylish and budget-friendly Minimalist winter shoe for women by GROUNDIES.  It has a neutral footbed with a "zero-drop" heel that helps you to feel the terrain and correct your stance without constraining your normal foot movement.
The barefoot sole of Odessa GS1 is made of a 3.3mm base with a 3.9mm tread(100% LTPU) that provides perfect traction and flexibility.
The upper layer of this shoe is made of 100% soft cow suede and the inner lining is breathable and composed of 100% microfiber, which makes the shoe elegant and comfortable.
Furthermore, Odessa GS1 has a wide toe box and anatomical shape, so you can comfortably spread your toes into the shoe and relax.
So, girls, this winter enjoy the wintry vibe with this amazing pair of Odessa GS1.
Get the look: GROUNDIES Odessa GS1
Tracker II FG
TRACKER II FG is a perfect combination of flexibility and toughness and this Minimalist winter shoe is specially crafted for men. This lightweight, waterproof shoe is gonna help you to feel nature like barefoot with perfect grip.
The sole of the shoe is thin and foot-shaped and also it has a wide toe box which makes this boot flexible and allows you to feel nature and stay comfortable when you put them on. Also, the removable thermal insole of this foot keeps your feet warm in the cold.
TRACKER II has water-repellent plastic lining and membrane produced with recycled plastic to make it waterproof and perfect for all weather.
Furthermore, it has a hard sole with a 2.5mm base and 4mm lug height that is constructed to give maximum ground feel and grip on every type of terrain.
This lightweight shoe is primarily made with Wild hide leather and other renewable material.
So, if you are searching for a stylish but tough and barefoot winter shoe then nothing can be a better option than TRACKER II.
Get the look: Men's Tracker II FG || Women's Tracker II FG
Vivobarefoot Gobi Hi Iii
Gobi Hi Iii is an elegant and beautiful minimalist winter boot collection of Vivobarefoot for you only. Its edgy and timeless look will let your feet feel the freedom to enjoy every day throughout this wintry season. Here are some amazing features of the boots that will make you fall for it for sure.
Gobi Hi Iii's barefoot sole made with rubber provides you good traction over wet, snowy, and muddy surfaces. Despite this, it has a wide hide leather on its upper layer that gives it a smart look. The inner side of the boot is made with faux fur lining, that helps to keep your feet warm and cozy.
Not only as a winter minimalist shoe but also with its timeless style Vivobarefoot Gobi Hi Iii can be an everyday shoe for you.
Get the look: Vivobarefoot Gobi Hi III
XeroShoes Mika Boots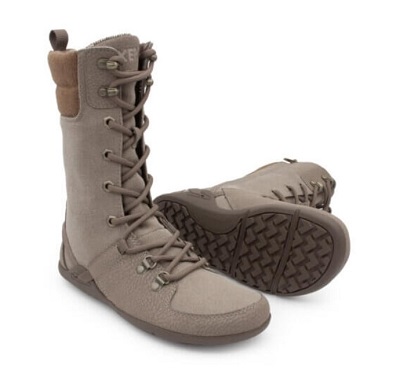 Mika is one of the best winter-friendly boots by XeroShoes. This shoe will indeed keep your feet warm and provide you with the benefits of barefoot-inspired, natural activity. This Winter friendly minimalist shoe comes up with three cold-weather adversaries: waterproofing canvas to keep your feet dry for a long time, comfy soft woven fabric for lining along with dapper 70/30 poly or wool integrated belt to give you a fashionable outlook, Mika also includes a heat-reflecting warming insole to keep your feet warm.
Despite these, this minimalist winter boot also has some amazing details that will prompt you to choose this as your winter backer. It's very easy to carry this lightweight footwear, as it's only 12 ounces each for a women's size 7. Also, Mika's adjustable sole gives you the comfort to move the way you want to. Its Low-to-the-ground design and Non-elevated, "zero-drop" heel help you to balance properly while retaining the perfect body posture. Mike came up with a High- grip FeelTrue® rubber sole that will prevent you from slipping.
It is also one of the most durable boots substantiated with a 5,000-mile sole warranty. So, spend this winter stylishly and comfortably with Mika and feel free to enjoy the beauty of icy nature.
Get the look: Womens Mika Boots
Xcursion Fusion
Are you keen on adventure and planning to go on a hiking trip this winter? Xeroshoes is here with a new and improved version of their best-selling original, the Xcursion Fusion. This is an excellent minimalist boot for all of your wintry adventures. Xcursion Fusion is a fully water-repellent hiking boot that is perfect for all types of extreme adventure. Now let's have a glance over some of the other jaw-dropping key features of this amazing boot.
Protecting your feet should be the most important function of minimalist winter shoes and that's why Xcursion Fusion has come up with a unique 5.5mm FeelTrue® sole and uneven double chevron notch with 3.5mm lugs to deliver good grip and comfort as well. Also for additional solace, it has an embedded TrailFoam™ layer. Altogether this hiking boot will give you ground feel, satisfactory traction, and comfort as well without restricting your normal movement.
Xcursion Fusion is also a lightweight boot with only 13.2 ounces for each men's 9.
Some advanced emphasis like wide and protecting toe cap, seam-sealed inward bootie, water-repellent canvas behind the outer layer makes this Minimalist winter shoe more durable and satisfactory.
Xcursion Fusion is available in both dark black and brown colors. Its rough and tough look has won thousands of hearts. You can pair this Minimalist winter shoe with jeans or khakis and effortlessly look cool this winter.
Get the look: Men's Xcursion Fusion || Women's Xcursion Fusion
Lemsshoes Waterproof Boulder Boot
If you are looking for an ultra-stylish winter-friendly boulder boot, then LEMS has some special women's waterproof boulder boot collection for you. Let's have a look at some amazing features of this Minimalist winter boot.
Whether it's about rain or snow with 100% – breathable waterproof coating this bolder boot is gonna always protect your feet. You can be adventurous this winter without any worry of wetting your feet with these amazing shoes that also have a gusseted tongue.
It's only 12.5 ounces for a women's size 7.5, and that is why it's very easy to carry this boot.
LEMS boulder boot's outer layer is made of 100% grained leather with an oil finish and water repellent feature. Along with that, it has Full-grain leather and moisture-wicking lining to keep your feet warm and dry.
Also, this boot has a 9.0mm LemsRubber™ outsole which makes it extremely flexible and perfect for your outing.
Furthermore, this boulder boot comes with a "zero-drop" heel and 3.5mm removable PU insole, which gives you a barefoot feeling and corrects your posture.
Get the look: Men's Lemsshoes Waterproof Boulder Boot || Women's Lemsshoes Waterproof Boulder Boot
Alpine – Men's Snow Boot
As a barefoot winter boot, Alpin is also the finest creation of Xeroshoes. This fully waterproof, lightweight, minimalist snow boot will let you enjoy the messy and snowy beauty of winter without sacrificing comfort. There are various attractive features of these Alpine snow boots that will make them a perfect choice for you to buy in this chilly winter.
This shoe is 100 percent vegan-friendly. On the outside of the Alpine boots, it has a water-resistant membrane and on the inner side, there is a seamed sealed booty to keep your feet dry.
To provide you with some extra warmth it has insulated polyester fleece lining and a removable heat-reflective insole.
The Alpine boots are only 14.9 ounces each, for men's size 9, that's why this lightweight footwear will make you feel like you have not worn anything extra.
Also, a luggy tread and "zero drops" heel make these boots more flexible, comfortable, grippy, and natural for your feet.
Whatever condition you will face in the future these Alpine Minimalist boots will help you use your foot naturally and they will give you a life-changing comfort.
Get the look: Men's Alpine Snow Boot || Women's Alpine Snow Boot
You may also like:
What to consider when choosing barefoot winter boots
While choosing a perfect Minimalist Winter shoe for yourself or your loved one you need to focus on a few essential key features of the boots along with the fancy design and visual appearance. The Winter season is full of challenges like snow, ice, rainwater, slippery paths, and stiffening cold and to fight this back and keep your feet healthy you need to be precise about the shoe you are wearing and its functional aspects. First of all, your Minimalist Winter shoe needs to be flexible enough so that you can walk comfortably with your natural feet movement and enjoy the winter or play with the snow without any unpleasant disturbance. Along with that your footwear also should have some of the essential features to make you feel comfortable. Here we comprehend some most important features of Minimalist Winter shoes that you need to prioritize while choosing the perfect footwear for the winter season.
Proper WaterProofing
You will not want your foot to be wet while enjoying the outdoor activity during winter. That is why a perfect minimalist winter shoe needs to be waterproof or at least it should offer water-resistant features so that by putting them on you can keep your feet dry.
Good Traction
Not only for hiking or other adventurous activity but also in this icy, watery winter season you need to wear shoes with good traction, otherwise, you can slip and fall over easily. That's why while choosing a boot for winter try to find one that has deep and rigid tread patterns on its outsole so that it can provide a nice grip over all types of terrain.
Warm Lining
During an icy cold winter, it's very important to keep your feet warm for the ultimate comfort. So, be a little conscious about the lining of the shoe while purchasing them. Always try to buy one with high-quality sheepskin or equivalent synthetic lining. Sheepskin can be a little expensive but it will also provide the benefit of moisture-wicking features.
Durability
Sometimes shoes with water-resistant and waterproof features can also be damaged soon due to excessive exposure to snow. So, while choosing a minimalist winter shoe consider what kind of protection it's offering. Generally for winter, shoes with higher quality leather are preferable, also for some extra protection oiled finish or some other leather care, water-resistant treatment will be an add-on feature for the product.
"Zero drop" heel 
The main concept of minimalist or barefoot shoes is to give a barefoot feeling with the protection of the shoe. So, to meet that criteria a Minimalist winter shoe needs to have a non-elevated "zero-drop" heel so that your foot can land on the mid-hill and your heel and the front toe can feel the ground.
Lightweight
Whether it's about winter or summer, a lightweight shoe should always be your priority while choosing a boot. Why would you carry a heavyweight boot when several lightweight shoes will make you feel like you have not put on any shoes. Furthermore, a lightweight Minimalist winter shoe will make you feel comfortable without restricting your foot's movement. However, while checking this fundamental aspect don't forget about fashion. So select a Minimalist winter boot that will complement your look and also provide you with all the essential features you need to fight back this winter.