As winter sweeps in, keeping our feet cozy and warm becomes a top priority. Often, even with the heater on, our feet can still feel chilly without the right pair of slippers or socks.
When searching for house slippers that truly prioritize your foot health, it's essential to consider the same qualities you look for in shoes.
Disclaimer: Just so you know, if you order an item through one of our posts, we may get a small share of the sale at no cost to you. This helps support the site's running costs. Thank you!
Wide Toe Box: Say goodbye to cramped and constricted toes. Look for slippers that provide ample space for your toes to splay and move naturally.
Thin, Flat, and Flexible Soles: Ditch the bulk and experience the ground beneath your feet. Seek slippers with thin and flexible soles, allowing for enhanced proprioception and a more natural walking experience.
Secure Fit: If you plan on walking often in your slippers, it's wise to choose a pair that attaches securely to your feet. Slip-ons may alter your walking gait, so opt for slippers that offer stability and support.
Fortunately, there is a world of excellent options out there that align with these barefoot qualities. While we may come across countless adorable fuzzy slippers each year, we understand the importance of making informed choices. That's why we recommend a few trusted brands that consistently prioritize your foot health.
Here are the best barefoot slippers that you can wear indoors as house shoes, but also hold up well with occasional light outdoor use.
If you are a barefoot shoes enthusiast, you may want to know this news:  You can save 20%+ off on all of XEROSHOES' new styles now through September 5th. Plus, earn an extra 5% off if you buy 2 or more new styles. They have limited quantities available for every new model, which will be hot commodities. So grab 'em while you can! 
Check the deal here or click on below banner.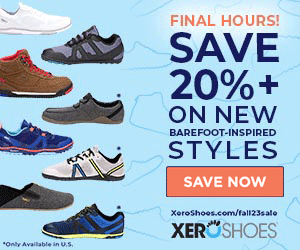 The List of Minimalist Barefoot Slippers
Softstar
SoftStar slippers are one of the best I've found. Softstar is a well-known designer of minimalist slippers. This ultra-soft minimalist slipper is handcrafted from the finest materials, including elk leather, Nubuck leather, suede, and cozy genuine sheepskin fleece.
They are sheepskin lined slipper boots with simple versatile designs that are durable and allow your feet to move freely while conforming to your feet to form a second skin. SoftStar slippers are really comfy and only the bottom is lined so they don't get too hot. You can wear them indoors as house shoes, but also hold up well with your occasional light outdoor use.
Get the look: Softstar
COFACE Men's Memory Foam House Slippers
This is a skin-friendly and moisture-wicking velvet lining and High elastic memory foam rubber insoles which really makes you enjoy the comfy wearing after a long day of work.
It is perfect for a bedside slippers that provides the kind of comfort you need as you prepare for the day. COFACE men's mule slippers are made of non-slip outsole in Wavy design that prevents you from slipping when walking on a wet floor. The side adopts the sewing process of fishline tight stitching, which is durable. It has a minimalist design that is shaped into a classic moccasin slippers. It has a concise striped knitting upper, with a delicate logo and the traditional whip-stitched toe that particularly makes this house slippers for men more unique.
The slipper has a rubber sole with anti-slipping texture, which makes it easier for people to walk around their home without slipping. You can also wear it outside.
It has a rubber sole which is thin, lightweight, and comfortable and has excellent traction and abrasion resistance.
Get the look: COFACE Men's Memory Foam House Slippers
FitKicks Kozikicks
FitKicks Kozikicks slippers look like ballerina shoes. They are barefoot, soft, cozy, and very roomy.
The breathable upper casing keeps your feet warm and dry during the winter season. They are super lightweight that make them easy to slip on and off.
These slippers will prevent slipping off when you are walking up and down stairs at home. You can also wear them as casual indoor shoes when taking the dog for a walk, running outside to get the mail or taking the garbage out.
They do not have arch support, but have padding within the sole on the heel area. Its roomy design can make it feel too large for thin feet so it might not be a snug fit especially on the sides and in the width of heel area. If this is the case, you will want to wear them with socks.
Get the look: Men's FitKicks Kozikicks || Women's FitKicks Kozikicks
L-RUN Womens Mens House Barefoot Slippers
I've owned 2 pair of L-Run slippers. Very lightweight, toes have lots of room to splay, and my feet definitely get that barefooted feeling when I'm in these slippers. Thin, flexbible yet durable sole, too.
The house slippers are designed with anti-slip rubber sole, which can provide a good grip and keep the feet warm. The lining is typically made out of soft fleece and they are warm that you may don't need socks with them.
This house slipper is designed to be worn indoors, not recommend for outdoors use as the material will not do well outdoors.
Get the look: L-Run slippers
Acasa Leguano shoes
Our feet play a crucial role in our daily lives, carrying us through the day. Therefore, it is vital to prioritize their health and comfort. Acasa Leguano shoes, known for their outstanding quality and craftsmanship, offer a unique blend of comfort, warmth, and flexibility. Made with care in Germany, these slipper-style shoes are perfect for indoor use, providing a cozy and snug fit that will keep your feet happy all day long.
The first thing you'll notice when slipping into a pair of Acasa Leguano shoes is the exceptional level of comfort they provide. With a super-soft wool material upper, these shoes feel like a warm hug for your feet. Whether you're relaxing at home or engaging in daily activities, you'll experience unrivaled coziness with every step.
The slip-on style makes them effortless to put on and take off, eliminating the need to bend down. This feature is particularly appreciated by older individuals, making these shoes an excellent choice for anyone seeking comfort and ease of use.
Leguano shoes are handcrafted in Germany, a country renowned for its precision and attention to detail. The outer material consists of a blend of 60% wool, 30% polyester, and 10% viscose, delivering both comfort and resilience. The sole is made of 100% LIFOLIT®, a lightweight and flexible material known for its excellent shock absorption properties.
Acasa Leguano shoes come in European sizes, but don't worry if you're used to North American sizing. A size chart is available to help you find the perfect fit. The soles of these shoes have excellent grip, ensuring stability even on slippery surfaces. You can confidently walk on any indoor flooring without fear of slipping or losing balance. Additionally, the soles are effortless to clean, making maintenance a breeze.
Get the look: Acasa Leguano shoes
MIM Felt Slipper
Crafted in partnership with Mongolian craftswomen, the MIM Felt Slipper showcases the rich heritage of the region. These skilled artisans have been practicing their craft for generations, using techniques that have been passed down through the ages. With each slipper, you can appreciate the artistry and skill that goes into creating a product with such intricate detail.
The magic of the MIM Felt Slipper lies in its simplicity. Unlike traditional slippers, these do not feature an insole, allowing you to experience the full barefoot sensation. By removing the barrier between your foot and the ground, you can connect with nature and indulge in a truly grounding experience. Whether you're returning home from adventures in the wild or simply seeking a moment of respite, slipping into these felt slippers transports you to a state of pure comfort.
Made from 100% wool felt, these slippers offer more than just a warm and cozy feel. Wool has natural insulating properties that regulate temperature, keeping your feet naturally toasty during colder months. It's a material that breathes, allowing air to circulate and prevent your feet from feeling sweaty or uncomfortable. The soft leather sole adds durability and grip, making these slippers suitable for indoor and light outdoor wear.
One of the outstanding features of the MIM Felt Slipper is the unique fit. Because wool has a natural stretch, the slippers will initially fit snugly on your feet. However, it's important to note that due to the handmade nature of these slippers, there may be slight size differences between individual pairs, further emphasizing the craftsmanship that goes into each creation.
To add a touch of personality and authenticity, every pair of MIM Felt Slippers is signed by its maker. This personal touch not only adds value but also connects you directly to the artisan who carefully crafted your footwear. It's a reminder that behind every product lies a story and a human touch.
So, whether you're looking to unwind after a long day or to take a moment of comfort in between adventures, the MIM Felt Slipper is the perfect companion. With its blend of ancient tradition and contemporary design, it encapsulates the beauty of craftsmanship and provides a natural, snug fit that will keep you cozy for years to come. Slip into the MIM Felt Slipper, and experience the pure joy of going back to basics in style.
Get the look: MIM Felt Slippers
Lems drifter fur
One of the standout features of the Drifter Fur slip-on shoe is its luxuriously soft faux fur lining. This plush lining ensures that your feet stay warm and cozy, even during the coldest days. Paired with a wool heel, these shoes provide an extra level of warmth and comfort that goes beyond what traditional slippers offer.
The Drifter Fur is designed for both indoor and outdoor use, making it a versatile choice for any occasion. The suede upper gives it a sophisticated look that pairs well with any outfit. Now you can enjoy the sensation of wearing slippers wherever you go, without worrying about judgmental looks from strangers.
The Drifter Fur features a cork insole that molds to the shape of your feet, offering exceptional support and comfort. However, if you prefer a bit more wiggle room, simply remove the insole for a looser fit. This customizable feature ensures that the Drifter Fur can cater to your specific preferences, providing a personalized fit that keeps your comfort as the top priority.
The Drifter Fur is designed with convenience in mind. The wool heel easily pops down, allowing for quick slip-on access, reminiscent of traditional slippers. If you're seeking added support, flip the wool heel back up, and the Drifter Fur transforms back into a classic slip-on shoe. This versatility ensures that you can adapt the shoe to your needs throughout the day.
Traditional footwear often compresses the toes, causing discomfort and potential health issues. However, the Drifter Fur features a foot-shaped toe box that allows for maximum room, letting your toes wiggle and spread naturally. This design promotes proper foot alignment and encourages a mid-foot strike, resulting in better posture, spinal alignment, and overall foot health.
The Drifter Fur incorporates injection-blown rubber, a unique mixture of air and rubber that makes the shoes incredibly lightweight and flexible. This innovative material ensures that they feel like a second skin, allowing your feet to move naturally and comfortably. Whether you're strolling through the city or running errands, the Drifter Fur will keep your feet feeling light and unrestricted.
Get the look: Men's Drifter Fur  || Women's Drifter Fur
Other barefoot slippers that you may want to consider:
I haven't tried these slippers, but I've heard some good reviews about them, so I thought I'd list them here as well.
Barefoot Leather Moccasin Slippers, Handmade In UK
Unisex Handmade Barefoot slippers
Genuine Leather Handmade Slippers
FAQs
What is barefoot slippers?
They are one that closely approximate barefoot running or walking. Those slippers must have evidence that time spent wearing it help strengthen your feet and save you from pain and injury.
Benefits of barefoot slippers?
Staying healthy and maintaining the perfect gait till old age has a lot to do with your choice of foot wears. The barefoot slippers will significantly improve stability and physical function compared to conventional shoes.
What to looking for when chooing minimalist slipper?
The slipper should be as roomy as possible without being too big. This is because they are meant to be worn indoors, so they should not have any unnecessary features that would make them uncomfortable or difficult to walk in. The slipper should also be lightweight so that it does not make the wearer feel weighed down. Finally, the slipper should have a soft sole so that it does not hurt the feet when walking on hard surfaces.
For a complete list, check out our List of Minimalist Barefoot Shoes.
As an Amazon Associate I earn from qualifying purchases. Thank you for your support!