What makes Chelsea boots Chelsea is the "no lace", rather elastic gore stitched to the ankle for closure. While there are nice Chelsea boots on the market today, I'd rather consider the zero-drop ones. These kinds of shoes have soles just a few mm above the ground. Their sole also has a wide shoe box and is as flexible as can be; unlike the conventional ones. Here are seven of those shoes that match that description.
If you are a barefoot shoes enthusiast, you may want to know this news:  You can save 20%+ off on all of XEROSHOES' new styles now through September 5th. Plus, earn an extra 5% off if you buy 2 or more new styles. They have limited quantities available for every new model, which will be hot commodities. So grab 'em while you can! 
Disclaimer: Just so you know, if you order an item through one of our posts, we may get a small share of the sale at no cost to you. This helps support the site's running costs. Thank you!
Check the deal here or click on below banner.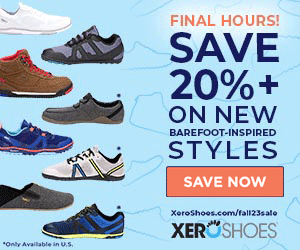 Zero Drop Chelsea Boots for Men and Women to Wear With Everything
Be Lenka Entice Boots
Be Lenka entice boots are classy zero-drop boots. It is a combination of versatility and comfort. They are made from Nappa leather with wool lining. The outsole has an anti-slip lug for traction. The closure type is elastic pull-on. There is also a bootstrap to aid the elastic aid panels. These boots run small; you may want to order a size up.
Get the look: Be Lenka entice boots
Mukishoes Chelsea Caramel
Mukishoes Chelsea boots are handmade and ecologically-dyed shoes. The upper is made from single-toned leather. It is lined inside with burels for warmth. The sole is made of completely natural rubber. They are not machine washable but are easy to clean with a wet towel. The leather needs to be treated with waterproof spray for longevity.
Get the look: Mukishoes Chelsea boots
Joe Nimble City Shoes
Joe Nimble City Shoes are women's classic Chelsea shoes. It has a fabric collar to add style to the shoe. The inside is lined with felt for warmth, while the upper is made from waterproof calfskin suede leather. It works for both winter and autumn. The Vibram® sole comes with cleats for extra traction. The footbed is made of moisture-absorbing material and it is removable.
Get the look: Joe Nimble City Shoes
Groundies® Sienna Women's Barefoot Shoes
Groundies® sienna barefoot shoes are fashionable autumn boots. It is a blend of classiness and versatility. In other words, it is casual as it is chic. It is made from nubuck leather and has microfiber inner linings. The sole, TrueSense® GSI sole, is built wide; to accommodate the toes. It is abrasion-resistant and non-slip. There is an elastic side panel, typical of Chelsea boots for breathability.
Get the look: Groundies® sienna barefoot shoes
Paperkrane Chelsea Boots
PaperKrane Chelsea boots are zero-drop autumn boots for kids. They come in pretty colors, like the skittles. They are made of black suede upper and very flat soles. The inner is lined with soft leather and has a wide toe box to accommodate kids growing feet. Their signature flexisole® is made from rubber. The toe and heel are reinforced for durability. The ankles are elastic for easy wear.
Get the look: PaperKrane Chelsea boots
Xero Shoes Women Vienna
Xero shoe women Vienna is a lightweight canvas Chelsea boot. The upper is made from lightweight cotton fabric with a slip-on closure type. The design is stylish and can be worn to work or on a date. The trademark FeelTrue® sole is just 5.5mm above the ground, and it is flexible. There is also a heel strap to add more to the style.
Get the look: Xero shoe women Vienna
Vivobarefoot Fulham
Vivobarefoot Fulham is made of leather both inside and outside. But the sole is made of rubber. The upper is leather with elastic panels at the sides. It is lined with soft leather and textile. The insole is thermal and removable. The closure type is pull-on. Overall, Vivo barefoot fulham is flexible, foldable, and super-thin.
Get the look: Vivobarefoot Fulham
For a complete list, check out our List of Minimalist Barefoot Shoes.
As an Amazon Associate I earn from qualifying purchases. Thank you for your support!