Do you love to cycle but hate wearing those bulky, uncomfortable shoes? If so, you'll be happy to know that there are now many options for minimalist barefoot cycling shoes!
Minimalist cycling shoes are designed to be lightweight and comfortable, with minimal padding and support. This makes them ideal for cyclists who want to go fast and feel the wind in their hair!
Disclaimer: Just so you know, if you order an item through one of our posts, we may get a small share of the sale at no cost to you. This helps support the site's running costs. Thank you!
There are many different brands and styles of minimalist shoes for cycling, so you're sure to find a pair that's perfect for you. And, because they're so lightweight and comfortable, you'll be able to ride for longer and enjoy your cycling more than ever before!
If you are a barefoot shoes enthusiast, you may want to know this news:  You can save 20%+ off on all of XEROSHOES' new styles now through September 5th. Plus, earn an extra 5% off if you buy 2 or more new styles. They have limited quantities available for every new model, which will be hot commodities. So grab 'em while you can! 
Check the deal here or click on below banner.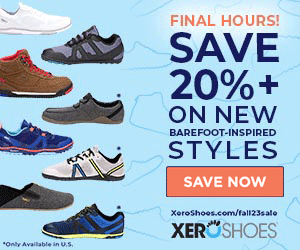 Top Minimalist Barefoot Cycling Shoes for For Daily Rides
WHITIN Barefoot & Minimalist Shoe
WHITIN minimalist shoes are designed to provide you with the ultimate stability and comfort. Zero-drop, non-elevated sole design means that your feet will be in complete contact with the ground. Adjustable hook-and-loop closure at the instep provides a custom fit. The insole can be removed if you want a "more barefoot" feeling. Wide toe box ensures that your toes have plenty of room to move, while the foot-shaped design provides body balance.
Made from organic, natural, and recycled materials, the shoe is also vegan-friendly. The thin sole is designed to protect your feet while still being flexible, making it the perfect shoe for cycling. Whether you're a beginner or a seasoned pro, the WHITIN Minimalist Shoe is a great option for anyone looking for barefoot cycling shoes that is comfortable, stylish, and versatile.
Get the look: WHITIN minimalist shoes
Aptos
Aptos shoes are made with a hemp canvas upper, which makes them breathable and comfortable. The wide toe box allows your toes to move and spread out, and the grippy sole ensures that you won't slip when you're pedaling. They're easy to get on and off. They are lightweight, weigh about 8 ounces for a men's size 9.
Get the look: Mens's Aptos || Womens's Aptos
Merrel trail gloves
Merrell is a company that specializes in outdoor footwear and they have a wide variety of different types of shoes for different activities. The Merrell Minimalist Shoe is a shoe that is meant for those who want to have a more natural feel to their footwear. This shoe has a wider toe box than most shoes on the market, which allows your toes to splay out more and grip the ground better.
The upper of the shoe is made out of a mesh material that is very breathable and it also has a TPU laminate on top of it. This laminate protects the mesh from tearing and it also helps to keep your feet cooler in the summer months.
The responsive design of the shoe keeps you firmly in control, while the rubber sole provides a good grip. The downside to this shoe is that the higher stack height keeps the shoes from barefoot feel. However, the shoe is still lightweight and low-profile, making it a great choice for those who want a minimalist shoe.
Get the look: Merrell Minimalist Shoe
Vibram Trek Ascent Insulated
The Vibram ICETREK sole provides great traction and the 360 wool lining helps keep feet warm and dry. They are extremely lightweight and flexible, which made them very comfortable to wear. The only downside is that they are not waterproof, but other than that, I highly recommend these shoes!
Get the look: Vibram ICETREK
HFS
HFS is the perfect choice for those who want a minimalist cycling shoe that is super flexible, breathable, and has a spacious fit. The patented FeelTrue rubber outsole provides an excellent ground feel, and the optional insole gives you a superior natural feel.
The spacious toe box and ultralight breathable upper make the shoe comfortable to wear daily, while the minimal 5.5mm outsole provides decent protection and ground feedback at the same time. The simple design of the shoe makes it a great choice for those who want a minimalist look.
Get the look: Men's HFS Running Shoes // Women's HFS Running Shoes
LUNA Sandals MONO Winged Edition
LUNA sandals are my preferred minimalist barefoot cycling sandals. I do occasionally enjoy biking in LUNA Sandals as long as I'm not riding through deep brush… or else I'll bloody up my feet/ shins. The Leadville style would be the best to bike in. The foot pad is a lot less flexible and keeps your foot pretty flat.
These versatile and stylish sandals are perfect for everyday wear and extreme adventures alike. With a flexible and lightweight design, they are perfect for any activity. And with a Vibram sole, they are sure to provide the traction and support you need.
With an 11mm thick sole (plus 4mm lug height) and 5.9 oz weight (single sandal), these sandals are ideal for any outdoor activity. And with one continuous strap made from climbing grade, tubular webbing, and easy slide adjustment buckles, they are sure to stay in place no matter what you are doing.
LUNA minimalist sandals are the perfect summertime footwear. They have no arch support, so they're perfect for those who don't like to wear shoes with a lot of extras. The soles are also similar to flip flops, so they're comfortable and easy to walk in.
Get the look:LUNA minimalist sandals 
Speed Force
I recently had the opportunity to try out a pair of Speed Force shoes and I have to say, I was impressed! It's very comfortable to wear daily, no more bunion pain!
These shoes are designed to help you pedal faster and more efficiently, while also providing the necessary support and stability to keep you comfortable and safe.
They are extremely lightweight and breathable, thanks to their minimalist design. This not only helps you pedal faster and more efficiently but also keeps your feet cool and comfortable, even during long rides.
Another great feature of Xero Speed Force shoes is that they work well with both clipless and flat pedals. This makes them a versatile option for different riding styles and means that you can use them in multiple scenarios. Whether you're hitting the trails or the open road, you can be sure that these shoes will help you pedal your way to success.
If you are looking for barefoot cycling shoes that can help you go the extra mile. Then you may want to consider investing in a pair of Xero Speed Force shoes. You can Speed Force as everyday shoes as well. Multipurpose!
For a complete list, check out our List of Minimalist Barefoot Shoes.
As an Amazon Associate I earn from qualifying purchases. Thank you for your support!