Right from the time that we were all born, walking barefooted contributed to the growth of the muscles in our feet. These muscles are responsible for our walking posture and overall balance.
However, as we get older, we begin to use footwear that reshapes the structure of our feet. These footwears alter our balance and can cause defects in our posture. This is why people are encouraged to wear barefoot shoes.
Disclaimer: Just so you know, if you order an item through one of our posts, we may get a small share of the sale at no cost to you. This helps support the site's running costs. Thank you!
Barefoot shoes provide grip when you are walking outside. It helps you gain control of each of your steps, maintains posture, and provides balance. With the abundance of barefoot shoes in the market today, it can be quite tough to find quality barefoot shoes at an affordable price. Brands that are focused on making profits rather than providing quality service sell low-quality shoes at affordable prices.
If you need cheap barefoot shoes, flats, slip-on, or sandals, here are some of the best choices for you.
The List of Cheap Barefoot Shoes, Flats, Sandals…
Sandals
Veracruz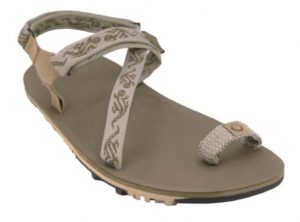 Available in different colors and sizes, the Veracruz Invisible Sports Sandals for men gives you the traction that you can get from any other sports sandal. You can wear it anywhere and from its name, it feels non-existent when you wear it.
The distinctive webbing pattern of this sandal makes it a perfect sport sandal for you if you are a minimalist. As a product of Xero Shoes, the Veracruz Invisible Sports Sandal has the comfortable, elastic, toe loop of the Jessie sandals. It also has a 3-layer FeelLite sole like the Z-Trail sandal. The 3-Layer FeelLite sole consist of;
Improved FeelTrue rubber that provides excellent grip. The rubber in this sandal has more tread to protect you from slipping when you walk on oil or
and other similar substances.
TrailFoam makes bumps feel like smooth surfaces to your feet.
BareFoam to give you a cushion and boost your performance.
As it is custom with all Xero Shoes soles, the Veracruz's sole also has a 5,000-mile warranty.
That's just enough about the bottom. The webbing pattern at the top of the sandal has a very unique design. It has one strap that begins outside the foot and works its way to the heel. It also has another instep strap. Both straps are adjustable to fit the size of your leg.
The invisible feeling is not the only special feature of the Velacruz sandal. The men's size 9 weighs less than 5 ounces which can make it feel like you are barefooted. Its lightweight makes it easy to pack if you are planning to travel and its grippy outsole prepares you for any adventure.
Get the look: Veracruz
Z-Trail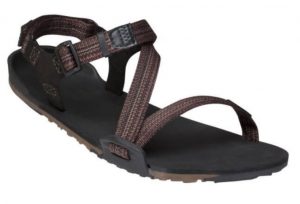 Z-Trail, the Ultimate Trail-Friendly Sandals is an absolute choice if you need a sandal that provides comfort, flexibility, durability, and versatility. Its lightweight design provides comfort for your legs and most importantly, it is very affordable.
Whether it is in your bag or on your feet, it is hard to feel the weight of this sandal. You can race any track with the barefooted feeling and protection that the Z-Trail sandal offers.
It is highly recommended if you do yoga. The grippy sole of the sandal replicates the feeling of a yoga mat. As you would expect from a product of Xero Shoes, the sole of the Z-Trail has three layers – the slip and abrasion-resistant bottom layer with FeelTrue rubber that gives you grip, the TrailFoam layer at the middle for comfort, and the flexible FeelLite sole at the top that allows you to feel the ground.
The sole, like others from the brand, comes with a 5,000-mile warranty and the whole sandal is made of vegan-friendly, rust-proof materials. This verifies the durability of the sandal.
It is easy to wear, with comfortable contours, and protects your heels.
Get the look: Z-Trail
Cruzers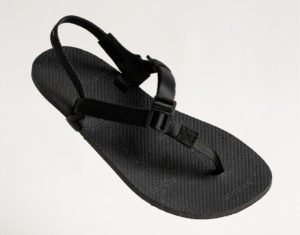 If you need minimalist sandals that you can wear on a street, trail, or mountain, you should consider getting the Cruzers sandal.
The design of these sandals makes it convenient for anyone and everyone to use them. Aside from being versatile, they are highly functional and last long.
The Cruzers sandal has an UltraGrip footbed that holds your feet to the sandals for as long as possible. You can also adjust the straps of the sandal with the Cruzers buckle to meet the size of your feet. Another feature of the Cruzers is the Powersleeve formulated to hold your heel at all times.
The Cruzers sandal has a lacing system that holds that adjustment straps and keeps it secure. The webbing pattern is extra comfortable, smooth, and authentic.
Built for high performance, the Cruzers sandal is functional and can satisfy all your needs.
Get the look: Cruzers
Jessie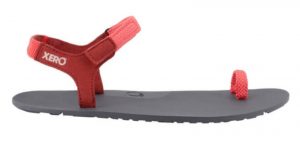 The Jessie sandal exists to give you beauty and functionality. It is hard to take a walk down the street without getting noticed when you are wearing a pair of Jessie sandals. Also, it is lightweight which makes it easy to carry it along with you if you are going camping.
All you need to get started with the Jessie sandal is the toe strap and the Velcro ankle strap. The sandal can serve as a simple sandal but if you need to run with it, the sandal can also serve that purpose.
If you still doubt about buying this sandal, here are a few things that you need to know;
It has the 3-layer sole of every Xero Shoes which means it is slip-resistant, abrasion-resistant, comfortable, and has a good grip.
It is durable. The sole has a 5,000-mile warranty and it costs a small charge to replace after 5,000 miles.
It gives you a natural barefoot sensation with the FeelTrue sole. The sole also protects your feet.
It is made from vegan-friendly materials and is highly recommended for vegetarians and animal activists.
Get the look: Jessie
Wokova Feather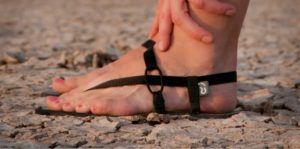 The Wokova Feather sandal is another version of the Wokova Sandals but a more minimalist type.
Considering that the sandal has straps, it is extremely easy to wear or remove. The adjustable straps are thin with high elasticity that keeps the sandal to your feet without being tight. This feature was designed to preserve the tendons in the body.
If you need activewear or casual wear, the asymmetrical design of the Wokova Feather makes it an excellent choice for you. It has a zero-drop sole and the heel is less than 8mm.
Get the look: Wokova Feather
Flats
Phoenix Knit
A sandal might not be the ideal footwear for wherever you want to go and you want to consider going with a flat shoe. The Phoenix Knit is the perfect choice for you.
Beginning with the toe box, this shoe has a toe box wide enough for you to flex your toes and gain control. At the top of the toe is a breathable knitted material that brings extra comfort to your toes.
No animal products were included in the production of this footwear and it is lightweight. Weighing around 5 ounces, it is easy to forget that you are putting on shoes.
As a product of Xero Shoes, this footwear comes with their signatory 3-layer sole and a 5,00-mile warranty. The shoe's excellent performance ensures that you have a good day even if you wake up from the wrong side of the bed.
Get the look: Phoenix Knit
SLIP-ONS
Aptos
Aptos, the Casual Hemp Slip-On Canvas for Men from Xero Shoes looks like some shoe that you might have seen on the street but it comes with more functions than any other shoe that you might have come across.
The shoe is named after a very cool beach town in California because the sole replicates that feeling that you have when you are walking on a beach at sunset. Some of its features include lightweight, hemp canvas upper, grippy sole, and a wide toe box.
The upper of the shoe is elastic which makes it easy for you to wear or remove the shoes. However, the elastic does not make the shoe tight to the legs. Instead, it provides comfort and the materials used in its production are 100% vegan-friendly.
As a Xero Shoe, you will expect the durable 3-layer sole that comes with a 5,00-mile warranty. Everything feels natural when you wear the Aptos, the Casual Hemp Slip-On Canvas for Men.
Get the look: Mens's Aptos || Womens's Aptos
Fitkick Men's Walking Shoe
Fitkick Men's Walking Shoe is foldable minimalist footwear that can be used in water, for yoga and other active lifestyle activities.
It provides comfort, boosts mobility, and its design makes it safe for the bones. It is also easy to wear and take off. Fitkicks Men's Walking shoes have other features like a signature grip strap, protective toe guard, inner cushion, pull tabs, and a Flex Form sole technology.
The shoe has ample toe splay and it takes the shape of your feet which makes it suitable for activities like walking, exercising, traveling, yoga, and so on.
It is easy to fold if you want to travel and it is available in different sizes.
Get the look: Fitkicks Men's Walking shoes
Fitkicks Women's Walking shoe
The previous slip-on footwear is made especially for men. This Fitkicks Women's Walking shoe serves the same purpose. Minimalist and foldable, it allows you to lead an active lifestyle.
The shoe is a second generation and is available in different colors and sizes. It is easy to wear with a breathable upper. The shoe aids your movement, takes the shape of your feet, and preserves your health overall.
The Fitkicks Women's Walking Shoe is easy to fold and it has a FlexForm sole with a spandex blend. It is suitable for your day-to-day errands, low-impact workouts, high heel relief, commuting, water sports, and so on.
Get the Fitkicks Women's Walking Shoes and enjoy its minimal design, convenient pull tabs, protective toe guard, and signature grip strap.
Get the look: Fitkicks Women's Walking shoe
Vifuur
The Vifuur WaterSports Barefoot Shoe is quick-dry slip-on footwear that looks like a sock and can be used for water activities or yoga.
The shoe is made from 100% synthetic material with a rubber sole. As a slip-on shoe, it is easy to wear and remove. The neck of the shoe is designed to prevent chafing.
The shoe's fabrics look like a sock – breathable, flexible, and very comfortable. The rubber sole of the shoe protects your legs from getting hurt when you hit a sharp object.  It can be worn for yoga, swimming, sailing, boating, and other water activities.
Get the look: Vifuur
Ababa II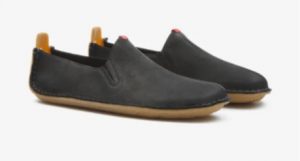 From the Vivobarefoot brand, the Ababa II Mens slip-on is minimalist footwear made to give you that barefoot feeling while you cruise around the city.
The shoe has a thin and flexible hand-stitched sole that was inspired by the footprints of ancient humans. The shoe does not have an exact shape, it takes the shape of your feet.
The width of the sole helps you to spread your toes and maintain stability. Its thinness allows you to feel the ground and move better.
Hand Stitched in Ethiopia, the making of the shoe provides more jobs for craftsmen and women and supports local communities.
Get the look: Ababa II Mens – Ababa II Womens
Drifter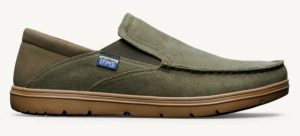 It is almost impossible to leave out the Drifter from a list of the best affordable footwear.
It has a collapsible heel which means it can be worn as a shoe or you can press the heel down and use it as a slip-on. Whether or not you are wearing a pair of socks, the shoe's cork footbed provides comfort for your legs.
Being a zero-drop shoe, the Men's Drifter puts your feet and heels on the same level which helps your spine and improves your balance. It has a wide toe box that saves you the stress of having to squeeze your toes.
The upper of the shoe is made of breathable cotton canvas that wicks moisture. This cotton canvas is elastic and takes the shape of your feet. The shoe has an insole that can be removed if you need extra space.
It has a zero-drop height, a weight of about 6 ounces for a size 10, and a stack height of 10mm. It is important to note that the shoe is made of 100% vegan-friendly materials and you need either otter wax or Nikwax for maintenance.
Get the look: Drifter Mens – Drifter Womens
Shoes
Mishansha
The Mishasha Water Shoe is suitable for both men and women. It has spandex upper and a rubber sole.
Made with the perfect material, the spandex upper is resistant to wear and tear. It is also lightweight and breathable which makes it breathable, flexible, and comfortable.
The sole of the shoe has holes at the bottom that allows water to flow out of the shoe. It is also anti-slip and it dries quickly. This design keeps water away from the shoe and makes the shoe last longer.
Getting your legs in and out of the shoe is easy and it holds the legs firmly preventing them from coming off the shoe at any time. You do not have to worry too much about lacing the shoe every time, the elastic material allows it to take the shape of your feet.
The Mishasha Water Shoe is multi-functional and can be used for activities like swimming, surfing, sailing, kayaking, beach volleyball, etc.
Get the look: Mishasha
Prio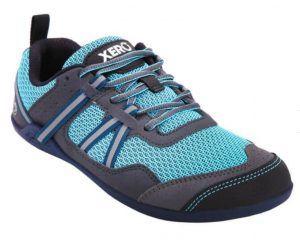 The Prio Running and Fitness Shoe is the ideal choice for you if you want to go for a run, hit a gym, or follow a new trail.
The 5.5mm FeelTrue rubber sole of the Prio Running and Fitness Shoe offers protection for your legs while giving you a barefoot feel. You can choose to add or reduce the barefoot feel by keeping or removing the 2mm insole.
It is extremely lightweight with the women's size 7 weighing 6.4 ounces. You will barely feel the weight when it is on your legs. Made from vegan-friendly materials, the shoe has a reflective heel that makes it easy to notice you when you are in a dark place.
As a Xero Shoe, it comes with an excellent sole that gives you comfort and amazing performance. The sole has a 5,000-mile warranty which assures you that it is durable.
Get the look: Women's Prio – Men's Prio
Colorado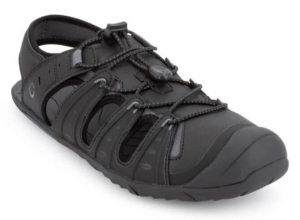 Colorado is named after the home state of Xero shoes. In Colorado, you can begin your day at the top of a mountain and end your day in a river. This is where the inspiration for this shoe comes from.
Designed for men, this shoe is perfect for trail, water, and everything in between. It has a wide toe box so your toes can move freely. This wide toe box alongside the neoprene lining, and a BareFoam footbed helps to give you comfort.
The shoe is flexible, lightweight, and guess what? It floats! It has a zero-drop design that gives you natural movement, proper posture, grip, and balance.
It is lightweight and made from 100% vegan material.
Get the look: Colorado
Whitin
Whitin Men's Cross-Trainer comes with an anatomical shape that takes the shape of the leg and provides the ultimate comfort for you. It is made from adaptive and 100% vegan-friendly material.
The shoe has a minimalist construction and a zero-drop rubber sole that keeps the heels and toes on the same horizontal level.
The sole is thin and flexible and gives you a grip when you are walking.
Get the look: Whitin Men's Cross-Trainer
Hana
Hana is a casual canvas for men. Hana was designed in response to requests of people who wanted sandals that they can wear when it is cold and closed-toe sandals that can be worn to work.
The sole of the shoe is built like a sandal but it performs more functions. It provides great protection for your legs and keeps your feet as close to the ground as possible. You can feel closer or farther to the ground with the 2mm insole in the shoe.
It has a wide toe box for you to spread and relax your toes. Its lightweight and thin sole gives you control, grip, and helps you maintain balance and posture.
The upper of the Hana Men's Cross-Trainer is rain-proof, a distinct feature that allows water to splash when it comes in contact with the shoe. The shoe is only rain-resistant and not water-resistant, so you need to constantly treat the shoe so it can bounce off the water.
Get the look: Hana
Cassie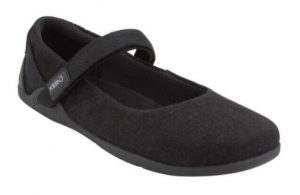 The Cassie shoe from Xero Shoes brings back the MaryJane design but with a natural feeling. The shoe is built for fun and is not recommended for exercise activities. However, there is more to the shoe's function than just wearing it to work or for a hangout.
The instep strap of the shoe is attractive and also very functional in the sense that it holds your heels firmly. The shoe is made from eco and vegan-friendly materials. You can clean the shoe with soap and water without ruining it.
As known with other Xero Shoes, the Cassie shoe also provides a natural fit, function, and feel. Wearing the shoe improves your posture, balance, and agility. The sole is durable with the 5,000-mile warranty that makes it stand out from other shoes like it.
Get the look: Cassie
Oswego
The Oswego Shoe fuses the comfort of a water-resistant upper with a lightweight sole to give you a super performance.
The shoe comes with a barefoot feeling and the 2mm insole allows you to adjust this feeling to your taste. With the women's size 7 weighing 6 ounces, the Oswego shoe has a negligible weight when you put it on. It is made from 100% vegan-friendly materials and the instep straps keep your foot secured whether you are wearing a sock or not.
With a durable sole that is backed by a 5,000-mile warranty, the Oswego shoe ensures that you enjoy your day as long as you have them on.
Get the look: Womens Oswego – Mens Oswego
TerraFlex
The TerraFlex shoe provides extra grip, traction, and protection that the Prio Trail and Fitness Shoe. It has a minimalist design and it performs excellently.
It is built like the Prio Shoe but with extra features. This minimalist shoe has a 5mm FeelTrue sole with 4mm lugs that provide more grip and a 3mm BareFoam to protect your feet and make them more comfortable. It also comes with a Tough Tek Toe Bumper and the upper is an aggressively breathable mesh.
Some of the other features of the TerraFlex shoe include reflective straps, 100% vegan-friendly materials, and adjustable instep straps.
Get the look: Womens TerraFlex – Mens TerraFlex
FAQs
Are barefoot shoes good for you?
Yes. It has been reported that barefoot shoes can reduce the risk of getting knee injuries and heel pains when you are running.
Should you wear barefoot shoes every day?
It is a good thing to wear barefoot shoes every day. Since they help to give you a good posture and keep your spine healthy, it should be a habit to wear barefoot shoes every day. However, you should not wear the same shoe every day. You can change your shoe after two days of wearing them.
Do barefoot shoes have arch support?
Yes. Some studies have proven that barefoot shoes can improve your arch strength. Other studies have shown how positive changes in people's arches after they began to wear barefoot shoes.
Are barefoot shoes good for walking?
Barefoot shoes allow your toes to touch the ground before your heels and this improves your gait. While barefoot shoes can help to reduce stress in the leg, they can also reduce the forces from the knee.
For a complete list, check out our List of Minimalist Barefoot Shoes.
As an Amazon Associate I earn from qualifying purchases. Thank you for your support!