Before going into barefoot running tips, I think we should answer the most important question: why run barefoot?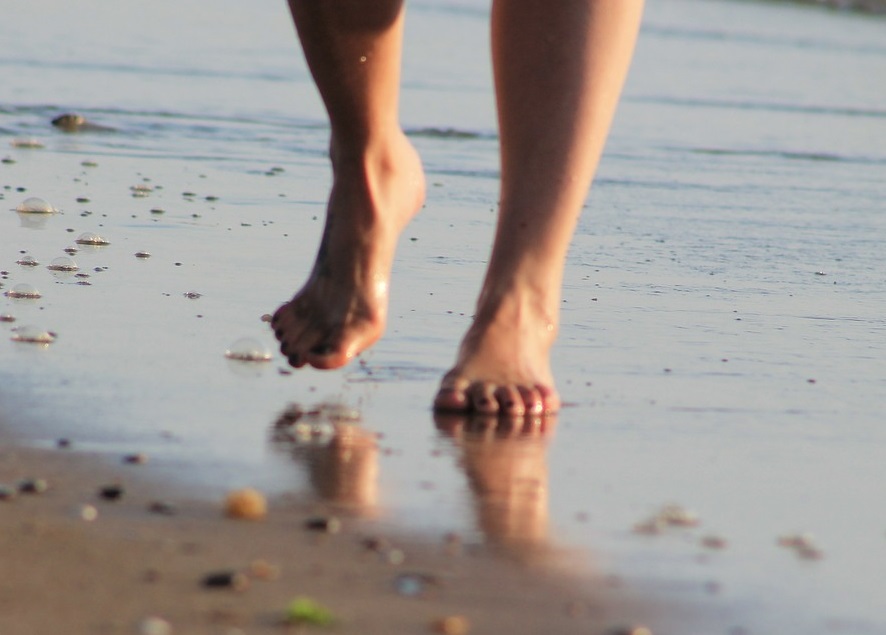 Shoe companies are a huge industry, and a large percentage of their sales are running shoes. So the last thing that a shoe company would want is for runners to start going barefoot. However, shoe companies know the benefits of running barefoot. For example, Nike has the following message,
In addition to Nike's recommendation of running barefoot, Newton Running shoe company explains the benefits of barefoot running on their website
"To discover your best running form all you need to do is run barefoot. You'll immediately discover that when barefoot you're not landing on your heels, you're striking on your forefoot.
Striking on your forefoot is the most natural way to run, it is also the fastest and most efficient way to run. Newton Running shoes were developed to make your feet think they're barefoot and increase your performance."
as well as with the following diagram,
Even the shoe companies that would lose business if people started to run barefoot still agree that running barefoot is better for you. While these shoes are not a good substitute for running barefoot, the shoe companies do have the right idea.
For those of you who aren't convinced by the shoe companies, there has been much research done about the benefits of barefoot running. For example, the article listed here from the SPORT SCIENCE journal finds that barefoot runners exhibit fewer injuries and are about 4% more efficient. You can find many more articles if you search google scholar for Barefoot Running.
Finally, many people ask
"If barefoot running is so good for you, then why don't more elite athletes run barefoot?"
There are a couple of answers to this. The first is that there is a transition period to running barefoot. Since wearing shoes is the norm, many people grow up wearing shoes, and start running wearing shoes. Therefore, even though running barefoot may be better, most runners are not willing to take some time to transition to barefoot running.
What about the elite runners that grow up running barefoot? Most runners would be willing to run in a certain type of shoe if that shoe company were willing to pay them $1 million per year. However, if they run barefoot, then they have far fewer sponsorship opportunities. So essentially, it makes sense economically for the elite runners to run in shoes.
The last answer to this question is that some elite runners do run barefoot. For example, consider the barefoot runner Zola Budd, the two-time 5K world record holder, and world cross country champion. Also, the barefoot runner Abebe Bikila, who was a marathon champion and world record holder.
Practically Barefoot Running Tips for Beginners
Take it slow
If you are used to running in shoes, changing to running barefoot will require some time to adjust. You will use muscles that you have not used when running in shoes, and therefore your feet may be sore if you try to run too much. I started quite fast (ran a marathon within 3 months of starting to run barefoot), and therefore I had some sore feet at times. I would recommend icing your feet a lot, in the beginning, to help make the transition more smooth. Do not get worried if your feet are sore, it is because you are using muscles that you have neglected in the past. This is probably the most difficult part of transitioning to barefoot running.
Run-on a variety of surfaces
There are two adjustments that you need to make when you start running barefoot. The first is to strengthen the muscles in your feet. To do this it helps to run on soft surfaces such as sand and grass. The second adjustment is your running form. Running in shoes makes it comfortable to run with bad form. Running barefoot will naturally help you to correct your form and avoid injury. Running on hard surfaces such as concrete or asphalt will help you perfect your running form. It is not possible to run on these surfaces with the form you run in shoes.
You may also like: Benefits of Barefoot Shoes, Do you wear socks with barefoot shoes , and Barefoot Shoes Vs Regular Shoes: Which One Is Better?
Be quiet
The first time I ran barefoot on concrete, my feet were slapping the ground on every step. I quickly could tell that this was not the correct form, adjusted my form correctly. My suggestion is to try and run somewhere quiet and listen to your feet hitting the ground. Try to make as little noise as possible. The best surfaces to hear your feet are smooth sidewalks. Ideally, your feet should not be able to hear your feet when they touch the ground. This will be difficult in the beginning but is a good goal to have.