Shoes can change the way your entire day goes. If they are uncomfortable to wear then it is more than likely that you will have a bad day, simply because your focus will be on your shoes and trying to find a way to make them a little more comfortable. Whereas, if your shoes fit you fine and are comfortable to wear then you will not even give them a second though throughout the day. That is why it is very important to find shoes that you can wear every day and not have to worry about them once they are on your feet. This article will look at the different minimalist everyday shoes and will help you decide which ones will work the best for you. Read on to find out more.
The List of Minimalist Everyday Shoes
Freet Citee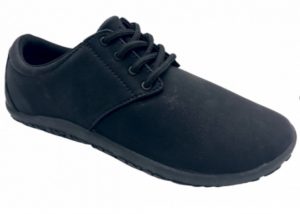 Disclaimer: Just so you know, if you order an item through one of our posts, we may get a small share of the sale at no cost to you.
The Freet Citee shoe is a great everyday shoe. It is a mixture of smart and casual shoes, so it can be worn pretty much anywhere. It is made from a high-performing microfibre, to ensure that the shoe is breathable, water-resistant, quick-drying, and is very easy to maintain. It can be cleaned with a simple wipe, or with soap and water. It has a roomy, foot-shaped toebox to allow maximum comfort. The fully flexible Multigrip outsole has excellent grip and wear, making it the perfect shoe when walking on pavements and hard trails.
Get the look: Freet Citee
Phoenix Knit
Phoenix knit is one of the best barefoot shoes for women. It is a combination of casual, classy, and comfortable. It is flat and stretchy, suitable for work and everyday wear.
It has a wide toe box that allows your toe freedom, it is also made of breathable fabric for added comfort. The sole is made of rubber (synthetic not animal rubber) and can be adjusted for more barefoot feeling by removing the inner sole. It is lightweight and can be worn all day without discomfort.
Get the look: Phoenix knit
Hana – Casual Canvas Comfort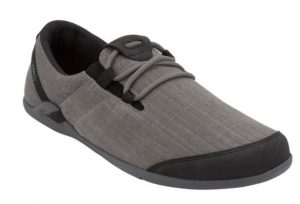 The Hana Casual Canvas is a lightweight shoe that looks great with simple, casual wear. But, just because it is classed as a casual shoe does not mean that it cannot handle a lot of wear and tear. It is a natural fit, with a wide toe box that allows your toes to have a little more room to spread and relax than a regular shoe. It is flexible enough so that your feet can bend and move in the way that they would without the shoe. They are also very light to wear, with the men's size 9 only weighing in at 8 ounces each. The vegan friendly material allows them to be easily washed with soap and water.
Get the look: Hana Casual Canvas
Lems – Men's Primal 2
The Men's Primal 2 shoes are similar to the Hana Casual Canvas, in the sense that they are very lightweight. A men's size 10 weighs only 6.9 ounces, giving the wearer the sense of being barefoot. They also ensure that your foot placement is perfect to allow you to correct your posture and align your spine. The wide toe box enables you to have further comfort as you can move your toes around a little more. They're also available in a variety of colors.
Get the look: Men's Primal 2 // Women's Primal 2
Addis
The Addis shoes are available in three different colors, black, brown, and slate. They are wide, to allow your foot more room and comfort. They are thin and extremely flexible. Made with natural cow leather, ensures that they are long-lasting and are very good quality. They're produced in Ethiopia, where a portion of the profits go back into supporting local employment and education initiatives.
Get the look: Addis Men's // Addis Men's
Ababa II
Very similar to Addis shoes, the Ababa II shoes are made in Ethiopia with a portion of the profits being put back into the local communities. They are made with Wildhide leather, and other natural and renewable materials. So, you know that the product is excellent quality, and is long-lasting. They are also, wide, lightweight, and flexible, so that your foot is free to move comfortably, it is not restrained like with most other shoes.
Get the look: Men's Ababa II // Women's Ababa II
Oswego
Oswego men's suede is a high-performance casual minimalist shoe from the Xeroshoe shoe brand. Like every barefoot shoe, it has a rubber outer sole made from non-animal rubber and a removable inner sole. It is waterproof and made from breathable material. It is easy to wear and easy to wash. Hand washing is recommended with soap and water, after which it should be left out to air. It also has a return policy of 45 days.
Get the look: Oswego men's // Oswego Women's
Primus Knit II
The Primus Knit II Women's shoe is made using vivobarefoot's signature 4mm super-flexible sole. To allow you to enjoy the lightweight feel of the shoe. Made from Wildhide leather, the shoe is built to last and to withstand your everyday life. It is also very comfortable, with it being wide fitted, to allow your foot to sit comfortably in the shoe, rather than it being crammed in like most other shoes.
Get the look: Primus Knit II
Inov-8 Bare XF 210 V2
This shoe has a zero-drop effect, which is where the lack of cushioning allows you to feel closer to the ground. It has exceptional grip; this ensures that the wearer will not slip when wearing the shoe. It has a very flexible design and much like other shoes it has a wide toe box, to allow your toes to sit comfortably in the shoe and spread out.
Get the look: Inov-8 Bare XF 210 V2
Astral Men's Brewer 2.0
The Astral Men's Brewer shoe is a great minimalist outdoor sneaker. With its material being quick-drying, it allows you to get the shoes wet without having to worry about them being soaked the entire time you wear them. The sticky rubber sole provides great stability to allows you to keep upright when you find yourself on slippery ground. Making it perfect for those who like to be near the water.
Get the look: Astral Men's Brewer 2.0
Fitkicks Men's
The men's Fitkicks are great casual shoes. They have a very minimalist design and are slip-on, to allow you to get them on and off very easily. It conforms to your foot, ensuring maximum comfort, along with the inner cushion and the protective toe guard. Making it the perfect shoe for everyday wear, as your feet are protected and comfortable at the same time.
Get the look: Fitkicks Men's
Opanka Women's
Opanka women's is another barefoot shoe from Vivo. It is simple to wear and designed for everyday use. It is shaped with your foot in mind – wide and thin – for flexibility and natural foot movement. The sole is made from natural rubber and has zero drops to maximize the natural feel under your foot. It is made from renewable materials, in other words, it can be remade just for you and worn again as new. Typical revivo style. In addition to that, it has a return policy after 100 days of purchase.
Get the look: Opanka women's // Opanka Men's
Men's Chukka Suede
This minimalist shoe is a product from Lems boulder's line. It is a versatile shoe that goes with both casual and full dress-up with added comfort. It is made of soft suede and IBR (injection-blown rubber) which makes it light, flexible, and durable. The wide toe box gives your foot a feeling of freedom and space. It is available as canvas and corduroy. It is easy to maintain with just Nikwax polishing. Although chukka appears to be bulky, they are made from lightweight material and are very light.
Get the look: Men's Chukka Suede // Women's Chukka Suede
Conclusion
The shoe we wear and other factors are largely blamed for most of our toe or foot condition. Our shoe is meant to provide protection for the feet and allow toe flexibility not to cause damage or alter its shape. This is why shoe designers found a way to combat this with a special kind of shoe. Minimalist shoes or barefoot shoes are lightweight shoes with a wide toe box for toe movement and a flexible sole to accommodate toe bending. It is designed to provide zero drops between your foot and the ground. It has little or no interference with your natural toe and foot movement. In addition to that, it lets you land on your foot not your heels during exercise or when walking. This article contains a summary of some of the best minimalist everyday shoes that can be worn on formal and informal occasions alike.
You may also like:
Barefoot Dress Shoes, Barefoot Shoe Brands, 9 Recommended Barefoot Winter Boots
As an Amazon Associate I earn from qualifying purchases. Thank you for your support!